FCBD 2022 Avengers/X-Men #1
nb. JUDGEMENT DAY books & crossovers start shipping in June.
https://www.freecomicbookday.com/Catalog/JAN220029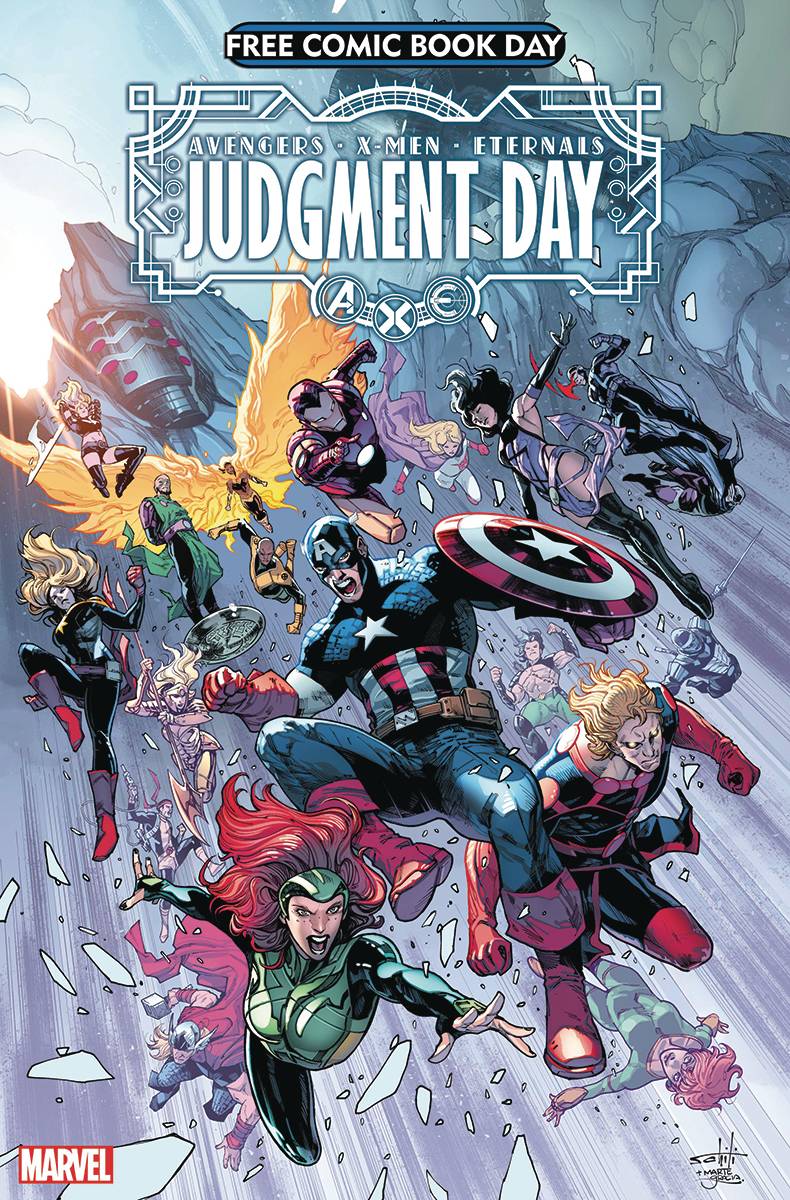 Cover: Meaningless diversity inclusion of Forge? Jean with uni-line freckles? Also, does this suggest or mislead all 3 teams will join forces by the end?
https://www.marvel.com/articles/comics/the-year-s-biggest-stories-begin-in-marvel-s-free-comic-book-day-avengers-x-men-1
FCBD comics have variant covers now?
STORY 1:
Wasn't it weird THE MACHINE showed a more modern Avengers next to the OG X-men line-up in it's memory bank presentation? That's just odd to (wastefully) No-Prize, eh.
Hmm...
NOW "mutants" are (story-conveniently) equal to "excess deviation"
and thus threat-concern to Eternals. So, is this before or after and/or contrary to the whole Evolutionaries propagation/storyline with certain Eternals
https://www.comicboards.com/php/show.php?msg=xmb-2011061903415912
or is it more likely The Bullpen is has forgotten/ignored that from a decade ago? Or where were the Eternals when Omega Mutant Iceman literally froze the Earth(as one example)?
So. Uranos was interacting with the Cavengers and not yet imprisoned for 2000yrs. Was this race of mutie Thinky Monkeys he wipes out, most likely, before/after/concurrent with Moon Boy's simian race? And how cold/jerky was Odin's okeydokey to slaughter them?
The timestamp "RECENTLY" obviously places this Giant Purple Deviant Monster attack as before Bendis wiped out the Eternals. WOW. Did it just take only TWO Eternals to take it out and show who truly should be branded "Earth's Mightiest Heroes"?
Cap and Panther on it's head is way silly. Panther surfing IM's armor to get off was neat, though. Remember how he could own Norrin's board *koff*.
Okay, the MCU synergy has genderflipped a couple mainstay Eternals but that does not mean Sersi should be changed to Asian BACK THEN, right? And if it's just artistic license then WHY get rid of her green color theme?
Now, it only takes ONE Eternal, Jack of Knives, to out-Uncanny the Uncanny - and arguably Krakoa, itself, eh?
Hmmph. Looks like Cyke died on another rando, insignificant, untold mission. Sunuvapup! This Marvel-approved ongoing Age of Recycable Krak-clones (for the cheap soulless deaths) continues to be VERY INFURIATING. Will "Captain Krakoa" alias be gone by June?
How nutso is the touched on debate that X-men are not Eternal but Immortal at best? How different is THE MACHINE re-implanting tech-stored memories on resurrection of Ikaris and kin to THE FIVE re-implanting organic-stored memories to Cyke and company?
Will there be some narrative exposition why mutant Namor is siding against his gene-brethren and how much Sersi will care since this will be shortly after she seduced him in the current Avengers run?
Eternals appear to known the Krakoa Ressurections so why are they going to attack the mutants because they are considered to be excess deviation if they will end up reborn anyways? Maybe distraction for an Island Strike?
STORY 2
:
Is this the first appearance of Blade's DAUGHTER? Yet ANOTHER untold offspring retcon? And yet
https://marvel.fandom.com/wiki/Eric_Brooks_
(Earth-616) confirms Brielle is his daughter even though she laughingly doesn't even rate her own wikia page? Safron appears to be her mother but doesn't even get named there yet either. Oh well, we'll see - anyways, Bri Brooks is good traditional alliteration and presumably her codename might be Bloodline.
STORY 3:
Does that house ad for Hellfire Gala II suggest Scott and Emma will give it another go??? Hellfire Gala sequel = gimmick marketing of fanart brilliance without recompensence.
Aunt Anna scores some facetime! Good for her!
Aunt Anna now suffers from dimentia! Of all the krappy luck!
Fair reason to bring MJ into the mix. MJ probably even getting an invite to the Gala cuz of her Krakoa Pharma poster child connection.
In spite of Krakoan Ressurection reset option is this one of 'the other' Moiraverse timelines *koff* with A-List Heroes dying left and right? [BTW, when was last story Magneto bent Cap's shield? Suffocated someone as a tactic?] That and the fact that she's a psychotic robot skinwalker in 'this reality'. Someone online noted this ties in to Lives and Deaths of Wolverine series. If so, how so?
YOUR ADDED COMMENTS?
Does this whole teaser ish really have enough necessary information/exposition as free comic book day offering to attract NEW unaware readers?
Do you think DARK WEB Event will be better or worse than this AXE Event?
https://community.cbr.com/showthread.php?159278-FCBD-Avengers-X-men-1--Preview
https://www.comicsxf.com/2022/05/09/a-taste-of-things-to-come-in-free-comic-book-day-2022-avengers-x-men/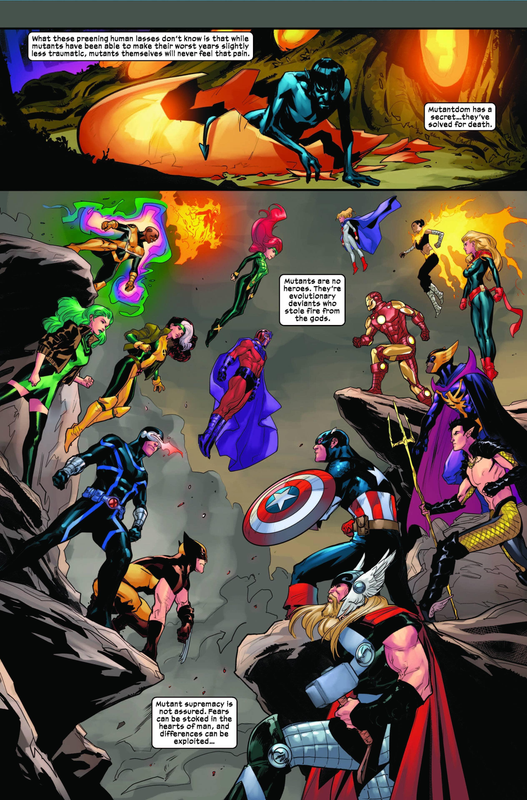 ---
---
I miss Dad & Dan.