Amazing Spider-Man 033
• Cover should've been about the main story and not the opening interlude. Guess it's deliberate and meant to be the TPB cover for the multi-issue 2099 Event, eh...
Back to the issue...
• Got no worthwhile intrigue from the Spider-Miguel first (mere) three pages. Well, curious to see if there's ANY kind of storyline connection between these BERSERKERS and the ones solicited for next issue of Immortal Hulk.
• Do "we, the readers," think Teresa KNEW that was an LMD of SS?
• It's good for the SS character that she suffered SERIOUS physical damage at the time of her apparent death since she's not superhuman. Plus, we get some details how she survived. Her possible ongoing reliance on the Infinity Formula could be a neat character element - especially with the not being superhuman in her superhuman line of work.
• Her renewed relationship with The Foreigner does have intriguing possibilities. More deets needed. A footnote to the Daughters of Liberty arc is wanted too.
• Continuity props by factoring in Victorious in the long forgotten, long standing rivalry with her county and Latveria.
• Karkov, Osborn, and Chameleon get some villain building.
• SHOCK RETURN of Hitman. Could he the original? Sure, he's a penny ante Punisher but if he's getting a revamp - he could move from Z to D lister! Still remember getting his PPtSS intro off the spinner rack at the corner store. Good times.
• Why does that UN councilman look like Foggy Nelson? Was he given a proper name yet? Must've missed it.
• The ESU cast is not yet interesting but that guy's "Claivoyant" means is, or could be depending how problematic Marvel establishes it's working. Surprising that Reed would divulge so much of his multiverse exploration, surprising how this makes it seems closer to easy peasy to microanalyze any/all of 'em, and surprising that he doesn't know much MORE detailed secrets of any superhero he chooses. Hopefully, limitations galore will be realised - after the opening drama of it.
• Okay, it is porportionately more frustrating as heck the more a Revolving Door spins around to allow a guest star to simultaneously or concurrently appear in multiple titles. And that cliffhanger guy is CERTAINLY a perfect example these days! But c'mon, Hitman's target is DEFINITELY a grabber. Does this means Hitman's new revamp is...
doomed
from the start!?
• [SARCASM] Oh great, [/SARCASM]this is the start of another EVENT *SIGH* where Marvel expects readers to jumped between sooooo many titles! (Even typically writers complain about suspending their storytelling so often.) Who will be buying every issue of this poorly named "2099" Event? ...waitaminnit!
Conan 2099
, too? CROM IT! They'll have to wrap this up before the "2020" Event that is coming probably in 8 weeks.
• STAN'S SOAPBOX:
https://s8.hostingkartinok.com/uploads/images/2019/11/7945c06115f704bec25bf51dade87c67.jpg
PREVIEW
https://comicstore.marvel.com/Amazing-Spider-Man-2018-33/digital-comic/52967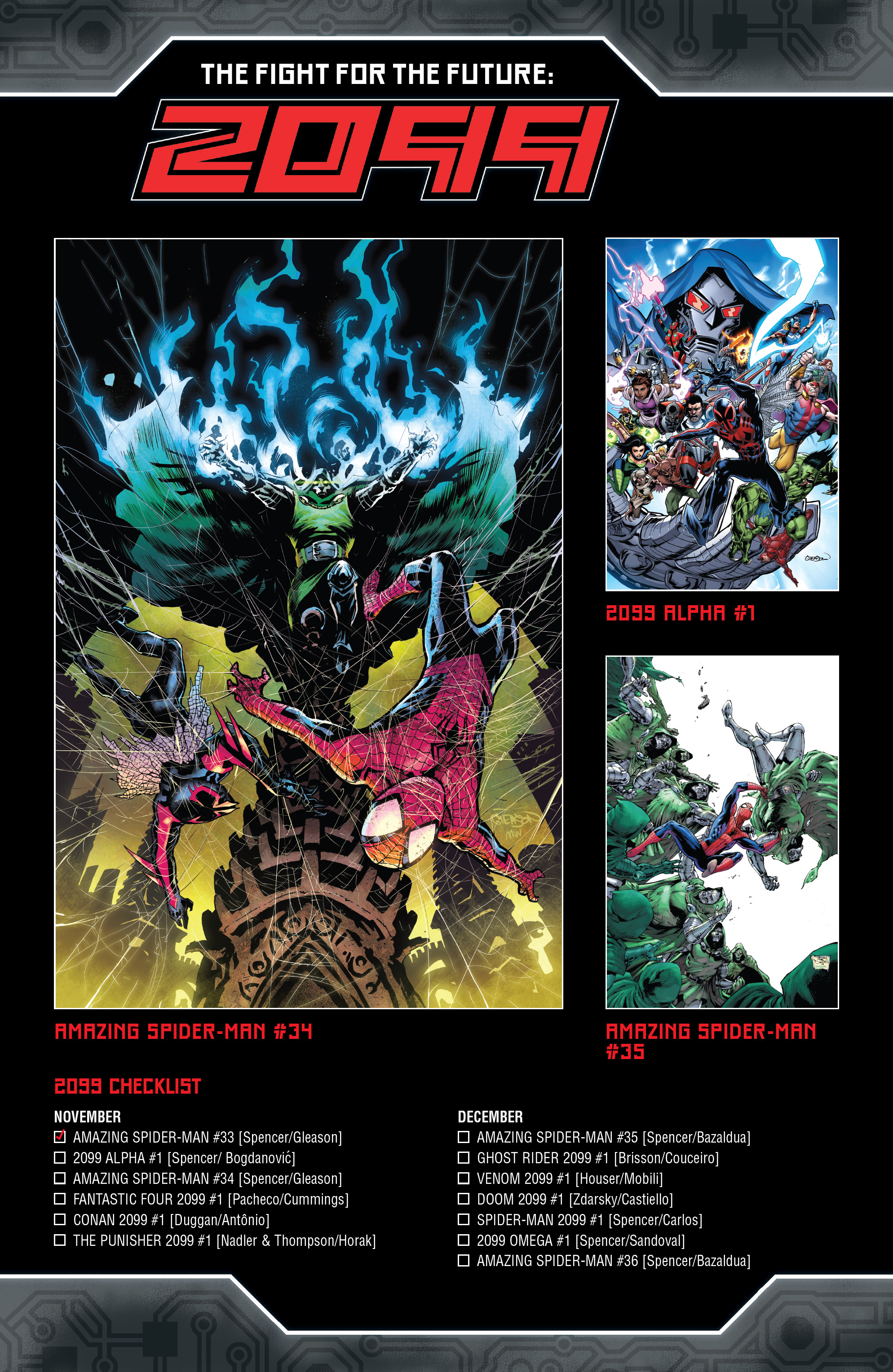 ---
I miss Dad & Dan.