'Wonder Woman 1984: Exhibition Braces For Another Release Date Change During Pandemic Post-'Tenet'
> EXCLUSIVE: With New York, Los Angeles and San Francisco movie theaters still not open, our exhibition sources are hearing that Warner Bros is apt to move Wonder Woman 1984 again, this time out of its current October 2 date to either sometime in November or possibly to late December...
Click for more:
https://deadline.com/2020/09/wonder-woman-1984-release-date-change-2020-november-christmas-1203019735/
Quote:


>Below is look at how the 2020 wide release schedule is shaping up:

>Sept 11
>Broken Hearts Gallery (Tri-Star)

>Sept. 25
>Greenland (STX)

>Oct. 2
>????

>Oct. 9
>Candyman (Universal/MGM)
>War With Grandpa (101 Studios)

>Oct. 23
>Death on the Nile (20th/Disney)
>Lord and Miller Connected (Sony)

>Oct. 30
>Fatale (Lionsgate)

>Nov. 6
>Black Widow(Disney)
>Let Him Go (Focus)

>Nov. 13
>Universal untitled event film
>Deep Water (20th)

>Nov. 20
>No Time to Die (MGM)
>Soul (Disney)

>Nov. 25
>Voyagers (Lionsgate)
>Happiest Season (Sony)

>Dec. 4
>The Empty Man (20th/Disney)

>Dec. 11
>Free Guy

>Dec. 18
>Coming to America 2 (Paramount)
>West Side Story (20th/Amblin/Disney)
>Dune (Warner Bros/Legendary) — ???

>Dec. 23
>Croods 2 (Uni/DWA)

>Dec. 25
>News of the World (Uni)

>Dec. 30
>Escape Room 2 (Sony)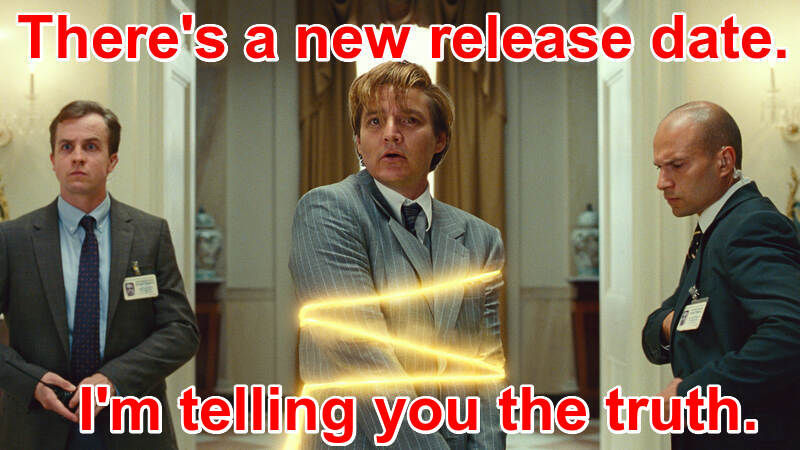 WILL THIS BE GOOD OR BAD FOR THE BOX OFFICE?