Uncanny X-Men #519
http://marvel.com/catalog/?id=13643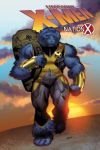 Liked the cover.
Liked the prologue but not, not knowing where - CAFFE with 2 f's is hardly a clue. Also know almost nothing of Fantomex, having read little of Morrison's run yet, but that was long ago so any exciting demand for this character is suspect.
Disliked the use of a perfectly cool phrase: PSYCHIC LOCKDOWN. What a shame and/or wasteful casual use of a potentially neat phrase. Real odd that Mags could
physically
leave during it. Better if they had said this whole room rather than the whole island. But then again it felt wrong that Emma seemed to pop out of the supposed lockdown too.
Liked Emma willing to risk going back into Scott's mind. Another potentially pet peeve psi fact to not is that this differentiates individual mindscape from shared mindscapes in the past. Also, is it because Emma was a telepath that she got a Void Scar but Scott doesnt or is this just an Editorial oversight?
Disliked the art, surprisingly, compared to many other great issues by the same guy. The simple backgrounds and mere black outlines of psi-women didnt help.
Disliked Magneto slumming it in a tshirt and behaving more like 'Joseph' in some ways.
Liked the powersight POV of Jeffries revealed - but would probably not like more than 1 panel per issue.
Disliked the quantity of nanobots as it seems crazy levels of presence. Will be curious to see its source. Wonder if Jeffries should be able detect Necrosha virus with same powersight.
Disliked "SO WHO DO WE HIT" - maaaybe if he were in Archangel form...
Liked soldier
Emma Frost
this issue as... Cammy?
Torn about Betsy's clear, and yet unclear, decapitating intentions.
Liked Magneto conferencing with Namor.
Disliked that they basically said nothing really that new about Namor in 2 pages and ended with him touching hands thru a glass like it was prison and this was a conjugal visit of sorts. Nitpicky about talking thru a windshield and water even if easily no-prized. It should have been atop Utopia island where Namor has been recently. He'll accomodate the human Shuri but not the mutant Max, eh? BTW, has there been a conference between Magneto and Norman yet?
Disliked the idea of tying in a new Atlantis to Utopia like this for any long term. It seems it would be handtying to MU stories to always include Namor-verse in any X-verse appearance. And why Namor as his goto guy? Cant Mags just make a pillar of metal? HOW would Namor be expected to raise a column of foundation based on his current/past resources?
Liked Beast's decision (finally made).
Disliked the Dark Beast (unfootnoted) flashback panel as THE catalyst - though maybe didnt get the significance of that comment chosen...
Liked that other mutants got a cameo - though the small panel image was a little chinchy.
Liked "I'M AN EXPERT AT REPRESSION."
Torn about the overall Black Box solution (only because of precedent
http://www.comicboards.com/php/show.php?rpy=xmb-2009122406384189
). And how this may further allow for loopholes in Scott's personality interpretations to come.
Disliked not finding out WHY the Void wanted Scott as it seemed the topic of this arc.