Wow. Back on the pull list. This was an astonishing issue, indeed!...
Astonishing X-Men #33
http://marvel.com/news/comicstories.10604.preview~colon~_astonishing_x-men_%2333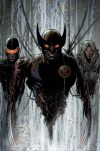 Its one of those issues where there is so many good things that its a lot simpler to just say READ IT, ENJOY IT. The brilliant art, storyline, characterizations, visuals,
great
one-liners, monster battle, master (presumably introduced)villain, optic blast - just to name everything were great! Including good scenes balance with EVERY member in a TEAM BOOK for a change - even Armor!
And THIS would have been a much more believable reason, shown, that Hank would leave the X-men than that odd Dark Beast panel presented this week in Uncanny 519 which must occur later.
Only nitpick OTTOMH, besides the cover image choice, is why the heck would Wolverine think all the Brood were dead?
Also to save me a trip to Wiki, who is Damien Hirst and how clever was that (presumably realworld)tidbit? Will have to check the Marvel bio on PARADIGM too - first time reading of him also.
Read it. Enjoy it. Here's another 1000 words worth of compliments to add to 'astonishing'...