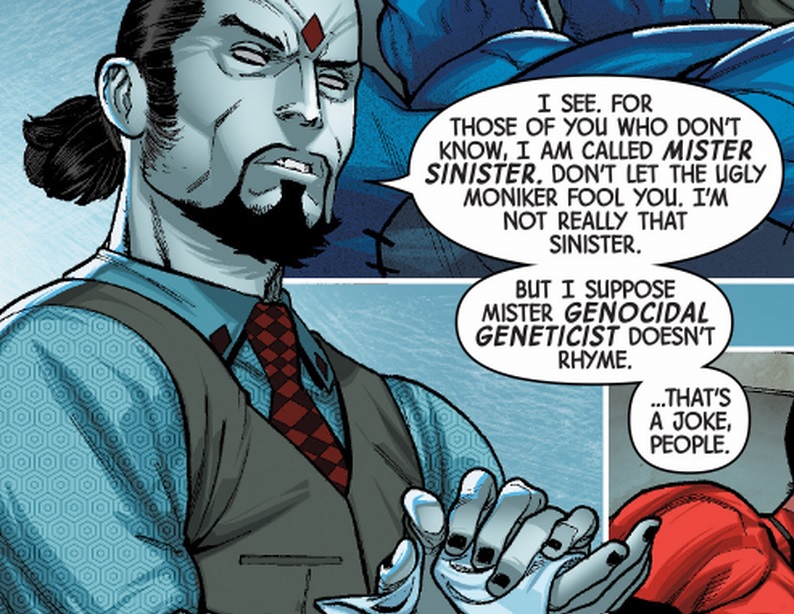 Secret Warriors 009 (2018)
PBP...
It's not right to put Karnak on the cover standoff.
What do they mean "Dark Beast - clandestinely working under Mr. Sinister's orders"?? What's the point? Or "when's" the point? Is "clandestinely" just being redundant? Or is DB doublecrossing someone? Seems like an odd sentence.
Fun opening scene returning kid prisoners.
Is there any good point/logic to showing the Soulsword can have swirling energy replace it's blade like that?
Fun puking bet between Quake and Inferno. Can anyone make out that bill's denomination?
OMG the implication of a large number of nascent NuHumans that were still not affected after the T-Bomb or the T-Cloud of IvX is an offputting storyseed.
Ennulix Board Meeting scene was fun too.
The sudden (between issues) return of DB and his monster force having easily trapped Lunella and Dante was offputting storytelling also. Especially after being soundly trounced last month and clichely escaped.
Magik tiring after too many stepping discs is something to note.
The girls bring the fight mostly posing but it was alright. So was the art.
Hmm... didn't really get the jokey "Juggalo" reference...
...ah!
Such a shame that the team didn't rescue the niece last ish. And sadly now it looks like the foes transformed her into some blue NuHuman. Add to that they clichely escape again. C'mon Magik, cast a spell or something.
Not sure what to make of Karnak's (vague) plan of getting (re)involved with the SW. And why call in the news reporters to expose secrets and Secret Warriors? Marvel seems intent of making this ROyal the most creepy good guy going. It's pretty bad that he even temporarily was motivated to work with Mr.S in the first place.
Are we supposed to assume that former intel agent Quakes at least had Lunella check the kid prisoner files for periphery evidence of bio health, if not genetic tampering - cuz that's what Dark Beast does! - before they rushed their reunions with their parents in Des Moines? It's a pretty sad/scary/surprise cliffhanger that one was secretly turned into a living time bomb by the bad guys to be blindly delivered by the good guys. Is Marvel intent on making Mr.S more despicable than DB? (More ammoral than High Evolutionary? Or less? Especially considering next issue's solicit involves pedestrian nasty photo ops
https://comicstore.marvel.com/Secret-Warriors-2017-10/digital-comic/46789
).
No Devil Dinosaur. Good or bad?
---
Support Cancer Research and Alzheimer Research.