Jean Grey 011 (2018)
Worst. Final issue. Ever.
It's one example of many "bad" Holodeck-ish episodes that is a staple of many, many telepath tales. Jeen experiences snippets of various inconsequential X-mencentric timelines as is the norm for these imaginary adventures. The whole issue is Jeen walking thru the mindscape of The Phoenix Force. Talking to herself and, later, to the fiery cosmic entity itself. It may or may not be in the same spacetime, of trapped Jean of the Phoenix Resurrection mini series - but that confirmation is probably more important to fans than Marvel it turns out. Not that anything particularly new or thought provoking was said with this as conclusion to her entire run of self-discovery. Was it?
Well, maybe this page is significant and defining. You tell me:
http://insidepulse.com/wp-content/uploads/2018/02/Jean-Grey-11-Phoenix-Resurrection-Spoilers-4.jpg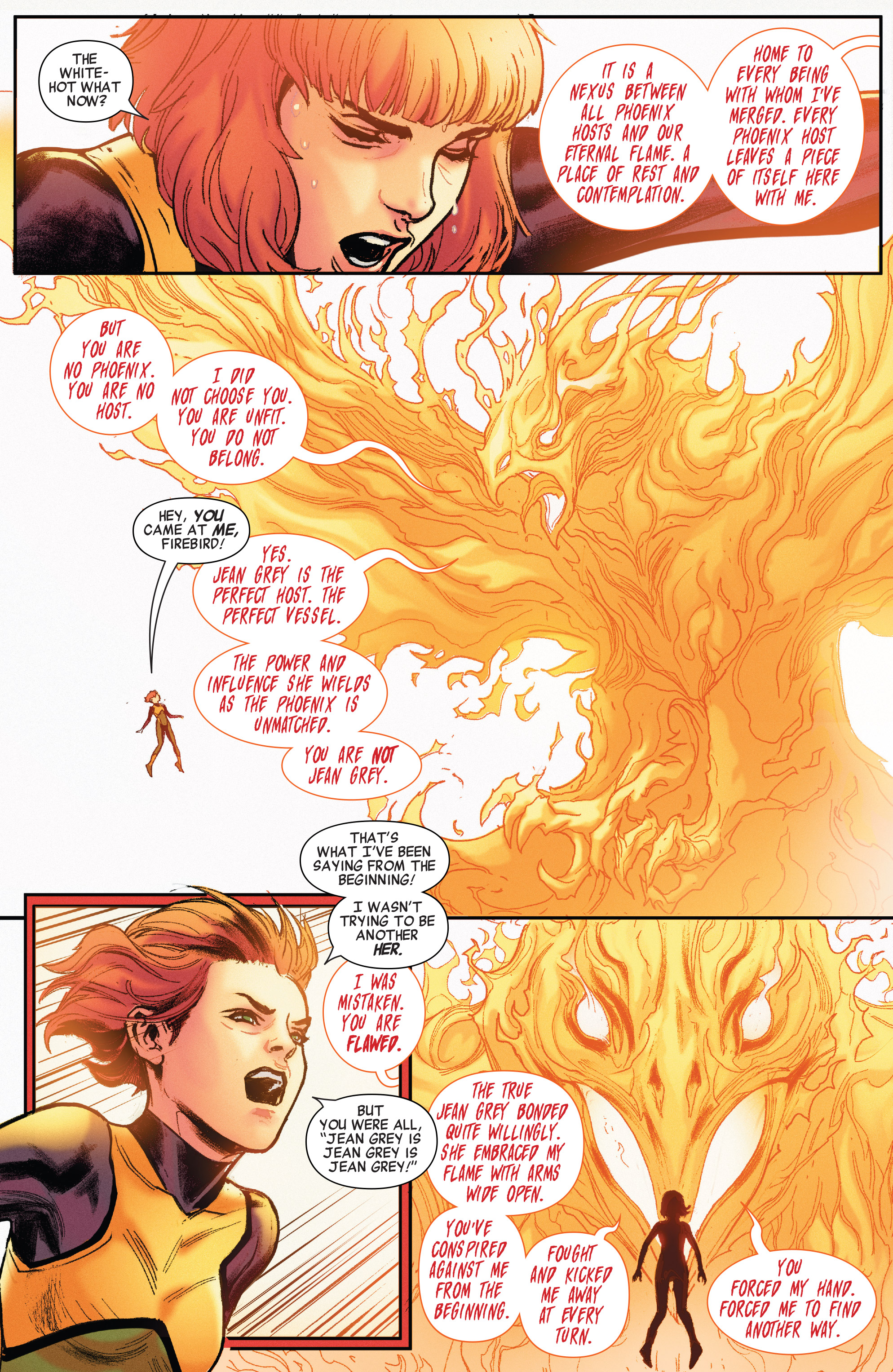 Also, it was reader friendly to tell us to read this after Phoenix Ressurection #5. However, that doesn't excuse the unforgivable absence of the various MU heroes teased on the cover or promised in the solicit. After her own apparent resurrection, thru willpower, Young Jean bumps into her fellow O5 member just to give them a cameo and then on the last page the Real Jean, in the flesh, herself surprises her with a greeting. However, no satisfying connection to or fate of Ghost Jean after last issue. Or even a flamin' note to the fate of any her TP party from #10 that were psi-burned alive and also specifically absent from the PR mini.
Sigh. Maybe it was just too safe a wrap to get excited about? Was it that bad in your eyes? Okay, already typed too much for this finale.
Another scan and a better reviewer typing here:
https://comicsverse.com/jean-grey-11/
And here:
http://insidepulse.com/2018/02/01/marvel-comics-legacy-jean-grey-11-spoilers-a-phoenix-resurrection-epilogue-on-the-road-to-x-men-red/
---
Support Cancer Research and Alzheimer Research.