So many stories. Brain overload trying to remember all the X-stuff. Can't recall the issue from this panel posted on another forum talking about Scott. Dumb questions:
Is this the only time that Teen Angel was shown wearing a hoodie as part of his costume?
Was Older Angel in this issue?
Who is standing between Beast and Cable?
Is Beast holding a Magneto-helmet? Why?
Is that Piotr sporting a stache?? And who is on his left?
TIA for any reminders.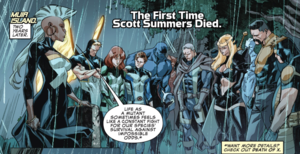 ---
I miss Dad & Dan.