Uncanny X-Men 018
Meanwhile the X-housecleaning continues...
Logan: Gone.
Marauders: 6 Dead. SIX DEAD.
Probably we're supposed to think they were toasted(dead) by Chamber. Maybe, maybe not. Easy enough to re-clone. Assuming they're the real 3rd?4th?5th? generation (and not some Emma sham).
Jono: Dead.
Maybe, maybe not since his body chemistry was wonky before flatlining. Probably for the best for him since he went against the no-kill code.
Sean: Dud.
Sinister: Incarcerated.
Something was fishy with his team-buster showing, as Cyke suspected too. So, let's see what prison Cap and the North Pole Avengers put him in.
Kwannon: Gone.
Y'call that security? Logan never brought her back, maybe?
Havok: Injured.
Let's see how this near insubstantial ghost mode pans out...
Shan: Gone.
Whiny excuse in some ways. At least it looks like she paid for a decent new HQ for the team as a parting gift.
Shogo: Gone.
Adopted by Shan.
Some sidebar statements...
0: Dumb bonus theme quote page in place of an exciting splash continues. Captain Obvious must have provided the drab quote. "I better put bread in the toaster if I want my toast for breakfast." Are we ASSUMING Cyke is saying it again?? (Not that it matters as intended.)
1: Who else thought it was cool choreographed scene how the X-men showed up to face the Marauders.
https://images-na.ssl-images-amazon.com/images/S/cmx-images-prod/Item/759077/Previews/a0e0d173d63e4ae6daba7e7a92c4506a._SX1280_QL80_TTD_.jpg
2: When Dani sent psi-arrow into villainess skull, if it was while Shan was possessing her, You'd think that'd have caused a blacklash.
3: Argh. we have to assume that Emma was just the right distance to easily eavesdrop in Cyke's mind.
4: Hope guns down Harpoon in retalliation of his killing Jono. How happy will Cyke be there?
5: Hey, they called him "Warlox" just like my blending last review.
And he can't even provide his own escape. Hmmph.
6: The art had more color than detail this time. The, granted, grabber cover choice all but ruins the surprise ending. Overall, it was a decent read mostly because STUFF HAPPENS. (Wonder if Layla knows about it.
)
https://comicstore.marvel.com/Uncanny-X-Men-2018-18/digital-comic/51378
---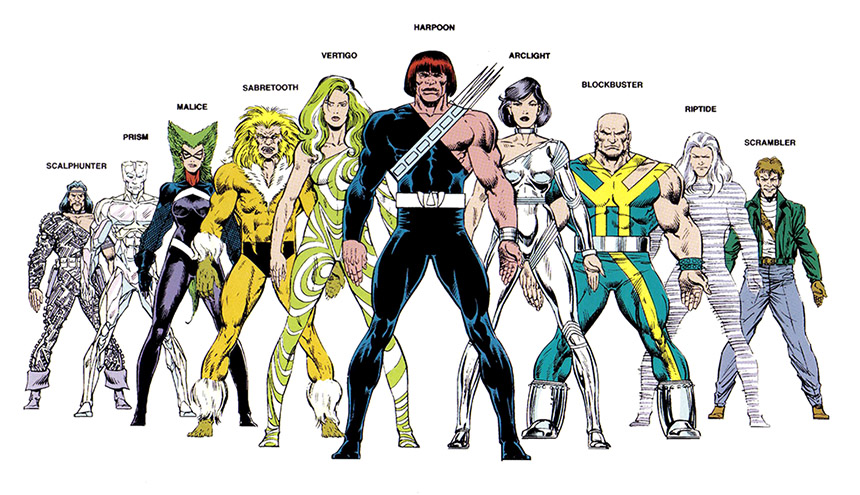 Support Cancer Research and Alzheimer Research.