AFAIK not yet mentioned in this thread...
> Iron Man: Tony Stark is the #1 slut of the Avengers, with a list that includes no less than Sunset Bain, Meredith McCall(?), Madame Masque, Marriane Rodgers, Bethany Cabe, Kathy Dare, Veronica Benning, Black Widow, Mantis (still want that to be the Space Phantom?, Pepper Potts (Heroes Reborn version), Countess De La Spiroza, Calista Hancock and Rumiko Fujikawa. Plus Wasp and Tigra are speculated, but unconfirmed, too. (12+, and that's a conservative guess)
Maria Hill (this month).
And cute CW banner found:
http://img.photobucket.com/albums/v345/iainburnside/CivilWarStark.jpg
And theres Teri (what issue is this?):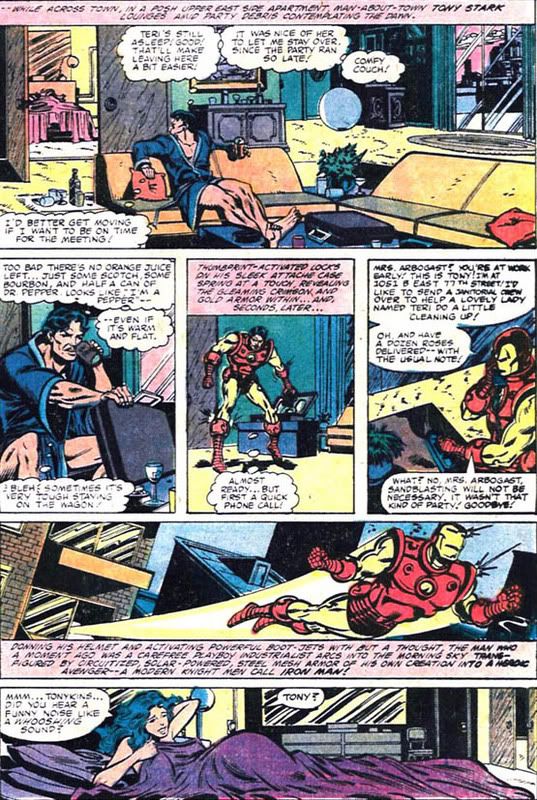 > What about Rae La Coste and Indries Moomji?
Good bets including Janice Cord whom he was engaged to.
> Captain America: Cap impregnated Sharon Carter before his death.
Add 'possibly.'? Faust or Skull couldve 'arranged' that fertilization. Was Captain America #16 their first?
> Scarlet Witch: Vision, and Wonder Man.
Clint, as said in this thread but possibly add 'possibly' since it could have been an illusion or simulcrum?
NEW AVENGERS 26:
http://img.photobucket.com/albums/v326/ten_penthouse/wanda/
> Hercules: In ancient times, he had a wife and was cheating on her (as in the Hulk: Hercules Unleashed one-shot). In modern times, Herc seemed more one for the nameless groupies, and being a general slut, once even throwing a toga-party at the mansion. There are claims about him and Black Widow, but I've yet to see proof. There's also an outside chance of Deathcry. (LOTS)
> Black Knight: Possibly Sersi, but there's no strong evidence either way. Didn't get anywhere with Crystal, and you just know he went home alone from Hercules' toga-party, too. Lots of speculation on the late Victoria Bentley, too.
Faiza is around the corner.
> Black Widow: Red Guardian II*, Hawkeye, Daredevil, Iron Man, and some guy in her Marvel Fanfare story (Michael Corcoran.) Hercules is also speculated. (5+)
If you want speculated men, maybe: MI6 Sims from Cap 46.
http://www.glowfoto.com/static_image/22-032028L/3931/jpg/02/2009/img3/glowfoto
> Mantis: Swordsman, Vision, That, and she was working as a hooker when Swordsman met her. (LOTS)
Vision? When?
> Moondragon: Raped Thor. Had a relationship with Rick Jones' wife Marlo, and the got involved with Phyla-Vell (2+)
> Beast: Like Hercules, was all about the groupies. Trish Tilby. His early-X-Men-era girlfriend Vera is speculated, too. (LOTS)
Heres Vera Cantor (on way to meet his parents):
http://www.comicboards.com/app/show.php?msg=xmb-2008102217435629
Heres Synthia Naip (who he prob doesnt remember having sex with):
http://www.marvunapp.com/Appendix/synthia.htm
> She-Hulk: Starfox, Cage*, Wyatt Wingfoot , Zapper Ridge, Mika, John Jameson (unidentified in FF:Foes, but Slott says its John. Also established in She-Hulk vol.2 #2); various one-night stands. (5 +) She has apparently slept with Daredevil in HoM.
> Moira Brandon: I don't even wanna know.
Benjamin Buttons?
> Thing: Alicia Masters and the She-Thing, when they were both human. Possibly "that idealized female version of himself from beyonder's battleworld during his Rocky Grimm Space Ranger days" (Tara) (2+).
Really wish he hasnt actually slept in Thing form with anyone for character development/decision reasons. Even Ms Green mentioned in this thread - including in the upcoming honeymoon iffff the wedding happens. On the other hand a past or future 'thing' with Sharon would have logic to it considering Jacob and Alyce.
> Sub-Mariner: Dorma (maybe not—she was killed before their wedding), Marrina, being Namor's wife's a death-sentence. And then there's Llyra, while she was disguised as the Invisible Woman, and "some pirate woman from a Marvel Fanfare issue". Possibly Betty Prentiss? (4+)
And another possibly 'cuz' of this:
http://i253.photobucket.com/albums/hh78/ColonelGreen/scan0016-6.jpg
Ex-girlfriend Alyssa Castle?
> Machine Man: Anatomically incorrect and proud of it (0)
Though he IS trying to make the moves on Jocasta in MZ3.
> Deathcry: Outside chance of Hercules
Hope not. Felt he took a more big brothery interest.
> Luke Cage: Married to Jessica Jones. She-Hulk, Tigra, Jessica Drew, Harmony. Possibly Dr. Claire Temple.
Detested the Alias retcon. Hoping at least some of the mentioned superheroines will reveal it was heresy that Cage was just been too 'cool' to deny.
> Sentry: His wife, Lindy.
> Wolverine: It's probably easier to ask "Who hasn't Logan slept with?" Definites include Mystique, Tiger Tyger, Domino, The Native, some un-named woman from the Wolverine/Cable one-shot, and someone-whose-name-I-forget from the second Wolverine/Punisher miniseries, un-named mother of his un-named child from the Savage Land". Flex from Alpha Flight was supposed to be his son as well, but they never got around to actually saying so in the comics. The full list would likely surpass Tony Stark and steal his title as the Easiest Avenger. (6+, at a very conservative guess)
> Possibly Mariko, Viper, Silver Fox, Warbird and Storm?
Horrible if ANY truth/implication to Ororo.
> Despite speculation and the cravings of the worst elements of fandom, Wolverine hasn't slept with Jean Grey and/or The Phoenix.
Atsuko:
http://www.comicboards.com/app/show.php?rpy=wolverine-2008030819410600
Seraph:
http://www.comicboards.com/app/show.php?rpy=wolverine-2007072422194300
Misty Knight
Some girl named Clea. Skrull-NightNurse. No idea but Victoria Bentley and Morgana Blessing have been linked to him. And of course WANDA... in his dreams:
Norman Jr.'s Mother
Gwen
Stacy
DO Komodo and Hardball count?