Previous Post
Do you think Ant-Man will be BIGGER than Suicide Squad at Box Office?
Will you be seeing it there or just on video? Looking forward to anything with it?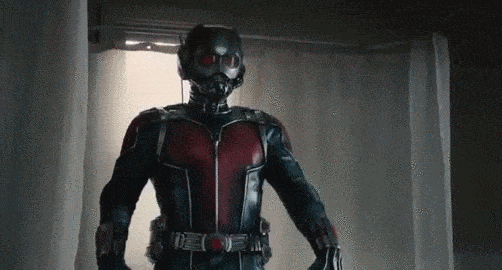 http://i1.wp.com/www.nerdophiles.com/wp-content/uploads/2015/04/ant-man-gif-1.gif
http://cdn3.vox-cdn.com/thumbor/Aw_-VHs5snQFy5YpVtSQnPuOwPg=/cdn0.vox-cdn.com/uploads/chorus_asset/file/2911190/2015-01-07_00_34_10.0.gif
http://images.fashionnstyle.com/data/images/full/66663/ant-man-huh.gif
---
I miss Dad and Dan.
It's hard to say, but I am guessing that Ant-Man will outsell Suicide Squad, mainly because the Marvel Cinematic Universe is smoking hot right now. I mean, heck, they took a C-list third-rate team like "Guardians of the Galaxy" and made a runaway hit with it!
(Not just from the hype, either, though that helps -- it was a good film!)
I've been a fan of the Scott Lang Ant-Man every since I first encountered him in Iron Man v.1 #233, back in 1988 -- my very first super-hero comic book! I also really enjoyed Ostrander's Suicide Squad, back in the 1980s. So I shall be seeing both films and hope they are both excellent!