Previous Post
Do you think Ant-Man will be BIGGER than Suicide Squad at Box Office?
Will you be seeing it there or just on video? Looking forward to anything with it?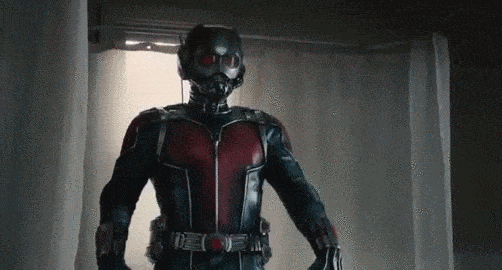 http://i1.wp.com/www.nerdophiles.com/wp-content/uploads/2015/04/ant-man-gif-1.gif
http://cdn3.vox-cdn.com/thumbor/Aw_-VHs5snQFy5YpVtSQnPuOwPg=/cdn0.vox-cdn.com/uploads/chorus_asset/file/2911190/2015-01-07_00_34_10.0.gif
http://images.fashionnstyle.com/data/images/full/66663/ant-man-huh.gif
---
I miss Dad and Dan.
Ant-Man will be bigger. Not because anyone really cares about Scott Lang, but simply because Marvel seems to know how to put their best foot forward with a new commodity. And once it gets around that Ant-man will be joining the Avengers, I think the box office tally will grow. Of course, that could be undercut by bad film reviews.
Suicide Squad may have Batman and Joker, but it's a Ben Affleck Batman, and a Joker that looks like a punk rocker. I think that adversely affects the fan base who know anything about the characters. And many of the villains are unknown to the public. This movie is, frankly, premature. Think of how much better it would have been if they had waited until after the major League movies, and had a suicide squad with more recognizable villains. Will Smith has been on a steady decline. Deadshot may be a good charcter for him to make a come back, but he IS looking for a come back. Margot Robbie? Stunningly beautiful. But we've already seen her completely naked in the Wolf of Wallstreet. What more can simple sex appeal bring to a super hero movie?
I'm betting on Ant-Man.