Quote:

Just a case of the mid-arc blues. Always happens. Nothing starts and nothing ends so it seems dull to some extent.
Sadly "Mid-arc Blues" are not one bit as entertaining as "Babysitting Blues"!
Quote:

That's OK, I'll blab enough for both of us.
Your observations are enjoyable to read.
Quote:

Man, you really pay attention to detail.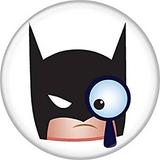 Quote:

Unaffiliated: Grandmaster

How weird is that?

Hmm. What happens if the Avengers win the game? Supposedly they're just obstacles. And yet - ?
Maybe BB and Torch are teleported to a winners circle. It is intriguing to imagine that "obstacles" can 'win the game'.
Quote:

Here's some symbolism (or at least poetry) for you. The very first words of Torch's narration are, "If Reed were here..."

So much poignancy in that, if you know (as we know) the back story. Worthy of a Tennyson or Keats, but no, it's just a Marvel writer writing like a Marvel writer. Remember when that used to happen? It was really cool.

Torch flying off half-cocked is perfectly in character. Think of how many times Reed had to yell, "Torch! No! Wait!" - back when Marvel writers wrote like Marvel writers. Remember those days? They were really cool.
The good ole days.
Quote:

OK. "BO" wins the acronym of the week award.
The M.L.J. agency is pretty clever use of those initials over in Mighty Crusaders #2.
https://s14.postimg.org/u767upz8h/the_shield.jpg
Quote:

Black Guardian and I were both right - but he was more right than I was. Yes, I was right that the Blood Brothers did in fact pummel Quicksilver on the last page. But Black Guardian was right about the more important point: Quicksilver wasn't terminally smashed. Which is very interesting. If Quicksilver hadn't been in stasis, getting hit like that would have killed him. He's not the least bit invulnerable. Yet in stasis he survived the blows. I wonder if he even CAN be killed while in stasis?
Equally curious is why he was the replacement piece for Vizh (chosen by Grandmaster?) - if there even was a plot specific reason.
Quote:

Reminds me of that old Avengers story - issue 67 by the incomparable Roy Thomas and John Buscema. They're fighting Ultron-6 for the first time - this is the first appearance of Ultron as an adamantium adversary - and Thor swings his hammer in preparation for a mighty blow. Clint (of all people) shouts out, "Thor! No! If you hit him, there's no telling what will happen!" So of course Thor lands his blow, irresistible force meets immovable object, and the resulting shock wave knocks the Avengers unconscious. Was this an inspiration for the Cannonball scene? I put the odds at 100 percent.
Neat comparison.
Quote:

Hey look! Lightning did something useful!
His powers are uniquely (and obviously intentionally) useful in this crisis scenario.
Quote:

But interesting dialogue by Black Swan. "So easily distracted by the designated obstacles, Legion... your strategy is shameful!"

This made me think of the board game, "Settlers of Catan," which I always lose at, because I focus on immediate interim goals like building a road while somebody else smarter than me is focused on actually winning the game by stacking up the most points by any means available. It also made me think of paintball, which I sometimes was good at, these rare instances occurring when I (in a fit of uncharacteristic good strategy) stopped worrying about shooting the opposing team and focused on the actual goal, which was grabbing the other team's flag.

It also tells me Black Swan has not considered the possibility that a designated obstacle might "grab the flag."
Black Swan could've been an interesting MU player after Hickman's run if anyone had bothered.
Never heard of Settlers of Catan but am curious about it enough to Google it after this.
Only played paintball 2-3 times, some years ago and still have fond tactical memories.
Quote:

I think Black Swan (and Hickman) wanted the extent of her powers to remain unclear. I stopped reading the Hickman endless saga somewhere in the middle but I always got the impression that Black Swan was intentionally hiding her power levels and only did what the Avengers wanted because it suited her agenda. She is at the very least Herald level, to use Battleboard terminology, if she can stop Mjolnir.
Hmm...
Quote:

Also nice to see Rogue is paying attention and is piecing together the puzzle of what's actually going on. That alone probably justifies her position as squad leader. Anybody (with powers and/or training) can punch and shoot and jump and stab. But pay attention and think? That's squad leader behavior.
My current opinion of Rogue is already typed here:
https://www.comicboards.com/php/show.php?rpy=xmb-2018010818014487
She's been fun in this Event so far but to play Devil's Advocate, since Grandmaster assumed Avengers should have figured out things by now, you'd think her, or Berto or Falc should be among that company since they are the leaders. Also, the teams are just reacting to crises right now and someone should assign someone to gathering intel too.
Quote:

Synapse is an endless source of "WTF" for me, because I don't understand her powers, even after Wikipedia, Black Guardian, and The Assembly have tried to explain them to me - because these three sources have each told me something different. This mind-reading feat feels like deus ex machina to me,
Yeah.
Quote:

but really, I think Synapse may be the equivalent of Omega level for Inhumans. She may have only scratched the surface of what she can do.
Going to reserve judgement on that upgrade pitch.
Quote:

Wonder Man: "AVENGERS OBSERVE!"

Funny and totally appropriate for Super-Gandhi.

Wait - you didn't like Simon's line? I thought it was so incredibly perfect. This is the Wonder Man who went bar-hopping with the Beast! Yet it's also John Lennon in tights singing "Imagine all the people living life in peace..." - thus the perfect hybrid of the only Wonder Man who was ever entertaining plus the current incarnation. In two words Team Waid gave us a ton of characterization. Masterful!
It seemed like a cheap pacifist joke. Read it as he was adding a tone of sarcasm and undermining the tenuous 'let's just watch' debate.
Quote:

VISION: "Wanda? Who is tha - ?"

Massively important clue. The Vision does not recognize Voyager. Why doesn't he?
Excellent catch. Missed that clue.
Quote:

More to the point: Why would a VILLAIN willingly give his life? Since when are these guys and gals on the dark side altruistic?

No, there's more going on here than we're privy to.
Quote:

I totally agree. I also hated how Lightning appeared to be having a conversation while in lightning form and zooming away - but that's a typical artistic trope in comics (albeit one that I always hate) so I'll just shake my head and move on.
Quote:

Meanwhile, notice how once again it's Rogue who perceives the danger! Yup, squad leader material.
Quote:

WONDER MAN: "Ladies, all this drama. Can't we reason together?"

Spoken while he swats them both aside.

OK. Super-Gandhi might actually be fun. But only when combined with bar-hopping Beast-buddy humor.
Not judgemental. Not lethal. Not going to put up with the Earth being threatened. Not yet worse than Drax pacifism mixed with a dash of killing.
Quote:

Yeah, if Red Hulk had gotten the "prize" I would have believed in the death. But Johnny? No. Out of the question. So either (a) prize winners don't die or (b) everything will be reset or (c) both. I'm going with both for now.

Oh, and pretty stupid that Lightning didn't zap Johnny to stop him from grabbing the prize. As far as Lightning knows, grabbing the prize is lethal. Or is Lightning's control of his power insufficient to ensure he doesn't kill his target? If that's the case, then his status as an Avenger is problematic at best.

Looking forward to getting answers next ish. Especially with promise of Challenger reveal!
https://comicstore.marvel.com/Avengers-2016-679/digital-comic/47235
---
I miss Dad & Dan.