Avengers 010
Ten Contentious Elements (in sequential order):
1 The ongoing dual number is ridiculous.
2 Carol looks crappy on the cover.
3 Title characters always have continuity issues when appearing in other books is always a challenge to some readers at some times, but the current chronology with other several characters in this tale is offputtingly unclear and/or inorganic.
4 Characterization with Thor is embarrassing!
5 It was such a shamefully cheap gimmick tease (albeit relief) how Stingray was revealed to be NOT DEAD afterall - maybe a bit of a backpedal too?
6 Gorilla Man as Jarvis 2.0 is such a SLAP IN THE FACE to Edwin.
7 Copying codenames of established heroes is annoying at times and now they're copying NEWBIE characters? Red Widow is concurrent with Red Widow. Sheesh (albeit a cool intro).
8 Odin endless session with GR-Reyes was just awkward bonding for some reason.
9 Wasp Van Dyne is Agent of Whatnow? Squadron Supreme of the USWhatnow? Starbrand's forshadowing is Whatnow? Blade's immenent return from Whatnow?
10 Phoenix-Wolverine - nuff said.
Other than that, this was an EXCITING read! There were AWESOME artists/colorists in each of the stories (seemlessly interwoven)! It was content PACKED! Definitely WORTHY of the 'Special(Sized)' branding for a change! Other bullets to comment on:
• Can we assume all those bones in the cabin are human.
• Last we heard Black Widow dismantled the Red Room, right? This Red Widow must be from a new Red Room ruling body, eh?
• Darkstar: Yay.
• Bukharin keeps his C.D. armor parked outside?
• Defenders of the Deep are all officially named! And all open for discussion. Some intriguing new members. And welcome back, Andromeda!
• No details on Newell's health status besides 'not dead' felt a bit wanting. Did Tiger Shark at least THINK he was dead or not?
• Cap noting a teleport station was a NICE DETAIL.
• Do we assume Agents of AXIS is active or not with Hale working here?
• At least internal to THIS BOOK, it really feels like 'Once an Avenger Always an Avenger' is no longer the case OFFICIALLY. Evidence: Wasp, Blade, Ross' announcement, severed ties, etc...
• Tony trying to posthumously impress his dad read odd. Making tech to outrace Hellmobile is open for debate.
• All Helicarriers sunk in ocean? When? Except for Korea's, Deadpool's, etc...
• Uhhh, did Thor just bat an object to the sun???!!!
• Follow up on Shulkie's meditation is neat.
• Namor has mellowed since last issue. Now he is just trying to reestablish him as a monumental asshat with his unbridled new team. MORE exposition is definitely needed. It's clear he won't be in Xmen Red for awhile since this happens after the Cassandra Nova arc.
• Orka's height was madly inconsistent here.
• Does anybody have a Handbook scan of all the Slavic Gods?
• Arghh! Now, Vanguard is copying Vanguard! Whatnow? *russian swearword* Poor Nikolai. "Red Guardian" can't be NOT P.C. since we have "Red Widow".
• Pretty standard BIG FIGHT showing with twist of a 3rd team brought in. Still it was pretty engaging to see who battled who.
• Hyrdopolis. Is that new?
• Coulson is back. AND ALIVE! Whatnow?! Good for him (and Deadpool).[EDIT: Plus he's made an AMB banner submission.] And look who he's brought along! Well, that's one way to stay out of prison - work for the US government...
What else was there to discuss.
https://www.comicboards.com/php/show.php?msg=avengers-2018111317194103
https://www.comicboards.com/php/show.php?msg=avengers-2018110821081843
https://comicstore.marvel.com/Avengers-2018-10/digital-comic/49747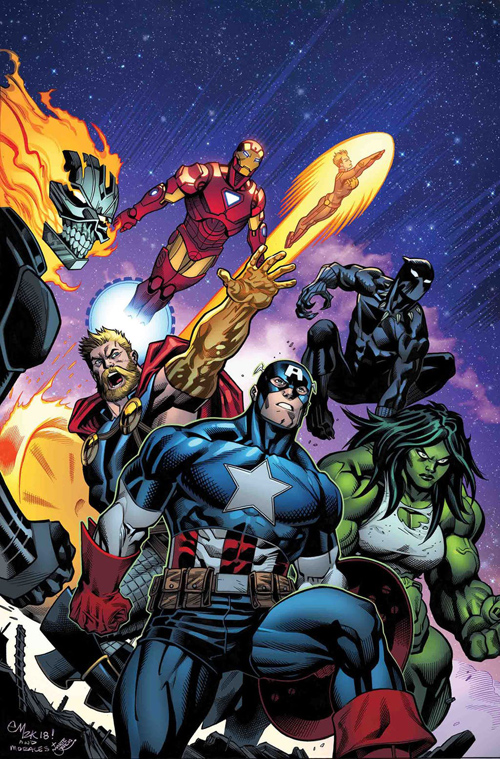 ---
Support Cancer Research and Alzheimer Research.