Quote:

It's trying hard to be something...but it doesn't quite land.

There's a forced LGBTQ thing, totally unnecessary for the story.

Punchline herself...well...I know they are making her to be as successful as Harley Quinn...but it feels like how it was in the 90s...when people were speculating on a new character to be the next big thing...and collectors gobbled up all those "first appearances" thinking it's going to appreciate in value...nowadays, people are so caught up with finding the new "key issue"...that's what fueling the hype for Punchline and driving the prices up on her early appearances...but there really is nothing much to her character. She's just a typical Generation Z "mean girl", for lack of a better description. There is nothing compelling about her story. She's just enamored with the Joker. And are we supposed to believe that people are swayed by social media personalities so easily, the way it is portrayed in this issue? Punchline is clearly guilty. No amount of social media podcast will change that. Give some credit to people recognizing B.S., when it is so obvious.
Agreed.
(Hmm... those text-heavy podcast episodes were boring but was the fact there were "52" an intentional little DC Easter Egg?)
Some more links:
https://t.co/4VeznJHyDk
https://twitter.com/skiinny_witch/status/1324788204235608066
https://twitter.com/i/status/1324788204235608066
https://video.twimg.com/ext_tw_video/1315359169508245506/pu/vid/720x720/eXFuKBd7WYwnuNKP.mp4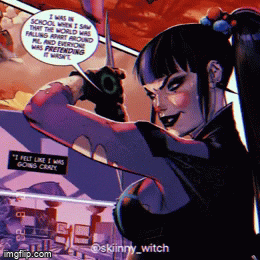 https://www.comixology.com/Punchline-2020-1/digital-comic/901468
---
I miss Dad & Dan.