Previous Post
WOW... Was that good or was it me just anxious to read my first comic for this week?
Found it GOOD, compelling and entertaining!! The caveat not to go out and kill humans is a clever way to keep NYC populace intact but puts a damper on SOME potential drama and tension - in Wakanda this feels like a war.
It just came out and dont really want to spoil it (too much) in an attempt to get you to try it...
BLACK PANTHER #41
http://www.marvel.com/catalog/?id=9831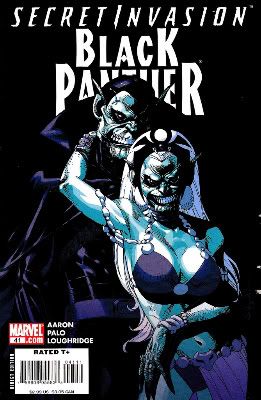 s
p
o
i
l
e
r
s but nothing too revealing...
What might prove the best line this week is by the Commander commenting on Storm, "LOOK AT YOUR WIFE, THAT.....ON A BROOD QUEEN".
Readers mostly get an in depth character piece on Commander K'vvvr. Yet, if you conisder it, it really tells a good bit about T'Challa, too, by inferrence and circumstance. BP only physically appears for a small portion but his presence is felt the whole story. If this story premise were simply text described, it would probably not warrant to much of my interest given added the fate of the main character, who indubitably amounts to be a one-shot villain. But if you read it, see if you also find it an engaging Slice of War Life (that has been wanting of late in this SI Event).
The limited and muted colors will hopefully not be in the next arc but they actually worked really well with this tale. Plus plenty purdy panoramic panel pictures!
If this thread grows, with real spoilers, will possibly reply add or edit in a few concerns that seem serious but hardly detracted from the epic. Including:
the comparitive religions.

the CardassianSkrull Commander's moral believability.

the details of Wakanda dealing with detected skrull infiltraitors (and the shockity shock shock shock).

the throat thingee.

the effectiveness of Storm.

the unnecessary risks involved with the (AWESOME) message on the ships wall.



---

Secret Invasion Animated Webisode
http://www.marvel.com/videos/286.Secret_Invasion_Animated_Webisode

---


...a problem that was soooooo glaring that it really detracted from the issue, at least for me.
Much had been made over the past three issues that T'Challa had managed to knock out ALL technology in the area, both for the Skrulls and the Wakandans. Which is why everyone has been fighting hand-to-hand throughout the story.
So, if that's the case, just how exactly did the Black Panther manage to have working technology that caused the two Skrull infiltrators to look like T'Challa and Storm, and, likewise, make the two of them appear to be Skrulls??? Because, going by everything we've been told throughout the entire story, there was no working technology. And then, suddenly, T'Challa happens to have some super-advanced hi-tech devices that allow him to infiltrate the Skrull ship and kill the general.
Honestly, I thought this was a good story. Unlike a lot of the other Secret War material, this actually came across as out-and-out war, a genuine invasion. Certainly I was glad to see the Panther and Ororo not sprouting such nonsense as "Oh, y'know, heroes don't kill, never ever" and all that, and instead actually using lethal force against the Skrulls. I mean, this was a war, and unfortunately in war sometimes you have to be ruthless & brutal to achieve victory.
Anyway, the ending was shocking & powerful, in my opinion. I actually felt bad for the Skrulls, and the scene where the entire ship full of slaughtered Skrulls is sent back into space as a warning to the rest of the invasion force was actually shocking. But it did communicate the message that in war the enemy you are facing is not actually some faceless pure evil, but actual living breathing people with their own families and lives. War is not fun. It is horrible.
Ben H.