Many a comic have many an idea/concept that is redone from many a story from many a medium. Just like a sung National Anthem if done well, or with an it factor, or with just a refreshing return it can be entertaining. This had some rehash elements to it but it was still a
good read...

DOOMWAR 1:
http://www.comicboards.com/php/show.php?msg=blackpanther-2010020901575459 [ELEVEN!!! images]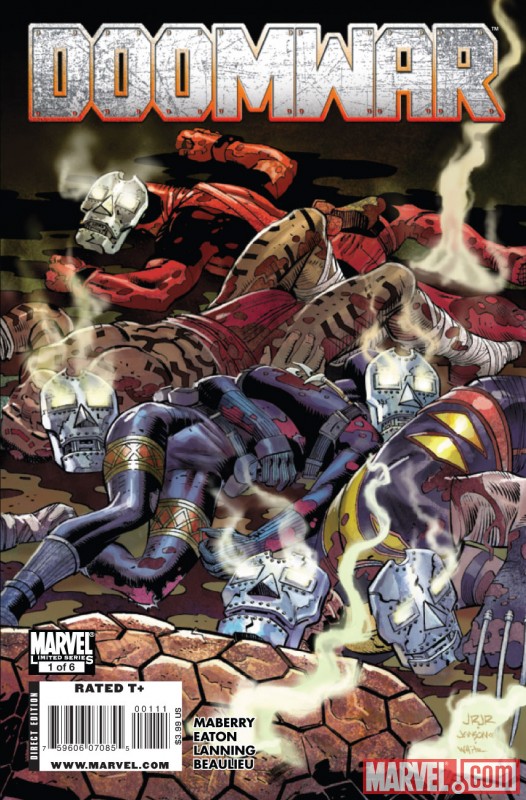 'Been there done that' stuff
:
Misleading cover. No one dies or is struck down inside but still it a wonderful cover with a pefect premiere issue grab.
Pointless variant. And Mohawk Storm is totally been-there-done-that! Usually there is a mandatory wasteful PrevPage. In this case it is just plain credits. Well, at least things can only get better after that.
Story plot. Basically a rehash of the last dull BP arc, Storms MU/Xmen status, and political set up for the mini. However, this retelling was clean and clear [if not a bit drawn out].
Superhero on trial. And just like IronMan Vs Whiplash, right now, not much peer support at the trial. Still the charges and BBC report made the state of affairs clear. Plus an sentence of actual DEATH seems rarely done in a civil MU court.
'Weird' Wakandan names. Good to get, specifically, T'Kan identified with the appreciated name-boxes theme running thru MU comics recently. Similarly Declun/Broker.
Playing the media. Norman does that so well in DR. Felt dramatic here too when the camera coverage was cut. But was that girl reporter, the one beside Anderson Cooper, the same BBC gal that got censored? BTW, is she a real BBC person too? And how 'bout that guy reporter to the screen on her left?
Doom. Every writer has his interpretation how to present this evil supervillain with his evil scheme du jour and this take was good. Nice segue. Neat belt buckle (has THAT been done?). Appropriate behind the scenes presence with outrageous megalomanical plans. The vault cracking felt a little like a DIE HARD movie as did his having the hostage killed but it worked; Doom is evil here.
Unclear chronology. Doom is everywhere these days. Plus his sequence of appearance drastically needs clarifying of late. However, overlooking that will help readers appreciate his Doomwar stance.
Lizard-Kings! If this was an inferred reference to Thongor then cool!
Magic. You dont have to explain it - if you want a confusing story. However, here it doesnt bog down the story yet and since Doom is the major part of the story and it IS a major part of Doom canon...
Utopia. It has been and likely will be all over the place umpteen times. Trying to present itself as a newborn 'nation'. It does a fine job here to parallel Cyke with T'Challa as a king. His non-sanction decision was a great moment. Also, among the pick-a-citizen to cameo we get Cipher! Almost forgot about her after the dreadful Young Xmen was cancelled.
Wolverine obligatory appearance. Sales is sales. But he doesnt just punch a clock with background presence. He got good dialogue this time.
Black Panther. Clearly this is a fair way to carry on from his series (put on hold for this mini?) as he appears large and in charge. FINALLY we get some BP significant interaction with the X-men since Storm married into the BP-verse.
Neutralizing superhumans. Everyones trying to do forever now. Actually, the available different techs have made this practice TOO commonplace. (A ludicrous and/or clear example in Wolverine
this
month.) And though that GENETIC NULL FIELD CELL is not particularly novel its good that Wakanda has access to this. And very Batman-protocols interesting that its implied that Storm's husband prepared this for her.
Legacy hero in female version. Shuri still hasnt got many fans as the newbie in town but she impressively makes her stand confronting the X-men.
VIBRANIUM! FINALLY this often only touched on Marvel metal is seemingly going to get some more detailed exposition. How many years since Klaw(part of that cool background montage) went for it have you too wanted to know more about that asteroid that crashed on Earth? And mixing it with magic is potentially 'fun' stuff.
Doombots. What Doom story doesnt have them. This army also has a copyish feel to Iron Man vs Whiplash #3. And yet also is comes across as a scary crisis waiting to happen.
Footnotes and flashbacks. Often neglected but T'Challa retelling of the Desturi and Dora Milaje serves the purpose and then is VERY nicely interrupted with the perfect line:
"GET TO THE PART WHERE YOU THREW YOUR WIFE TO THE WOLVES."
Nanites. THIS was just done in the X-title with the Predator X's attacking Utopia. Not to mention applications like the neutralizing superhumans post-CW. This topic is deserving of an entire thread itself on some MB. So while its been-there-done-that, it is also a intriguing topical (real and fictionalized) tech.
Ororo the thief. She makes McGuyver look like an amateur everytime she picks a lock. But this repeat performance shockingly ended with a wonderful surprise appearance on the other side.
Good art. One of the best 'been-there-done-thatt' factors. There are at least bannerworthy moments to boot - coming soon.
Empty threats. So many times a handbook character threatens to kill another handbook character and you just know that it likely wont happen. Yet, when Storm threatens Doom it still felt sincere after that very dramatic scene with her mother-in-law.
Wakanda is undefeated. Its hard to believe in some ways but an enjoyable absolute highlighted in stories like SI. Here it should be interesting when T'Calla goes up against his own defenses.
Splash pages. Very often space wasteful or indulgent but Kurt bamfing 'em in was a GOOD one! Even the page where the X-men "FOLLOWING THEIR HEARTS" show up wasnt technically a splash it sure felt like a good one too.
Hero kills someone. Woah! It would have been an interesting direction if T'Challa own up and took that responsibility upon himself in some ways. But woah! This'll get Shuri some buzz [and maybe a beer from Logan].
Long winded PBP-like reactions. Sorry about that? But this was good enough to prep for #2!
http://marvel.com/news/comicstories.11358.sneak_peek~colon~_doomwar_%232
Maybe these other comments are to your liking and will hype it better:
http://marvel.com/boards/viewtopic.php?p=4203982
http://marvel.com/news/comicstories.9867.diamond_summit_~apos~09~colon~_doomwar
http://www.ifanboy.com/reviews/zattaric/marvel_comics/doomwar/1_(of_6)
(more enthusiastic)
http://www.comicsbulletin.com/reviews/126635334238576.htm
(less enthusiastic)
http://www.comicboards.com/php/show.php?msg=xmb-2010021920453417
http://www.comicboards.com/php/show.php?msg=avengers-2010021801155005
I miss my brother.