For everything that was good (ie.'checked out well') with this issue there was some things that felt off/odd (ie.'bad') in...
DOOMWAR #3
http://marvel.com/comic_books/issue/29950/doomwar_0000_3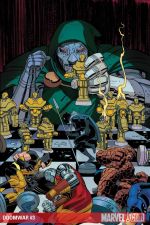 EXCELLENT cover!!!!!
Thorough recap.
Big name guest stars.
The last lock detailed.
Doom getting passed the last lock very cool.
Touched on the Desturi and The Broker not ignoring them even given their involvement. Its good to see real things happen with the non-statusquo characters.
Learning (apparently) the entirety of the Vibranium Mound of ore has been processed into slabs it seems. Also it apparently has a mystic element to it too.
"CHECKMATE" is given a reason. Doom is reeeally into chess.
Splitting up the team was smart since the Wakandans dont want outside help.
T'Calla's reasonable V-tracker did credit to his knowledge without taking away from Reed's genius.
Neat subtle arm stripe on the FF uniform (even though it probably wont stick around).
EXCELLENT twist to Ben's catch phrase - worthy of a banner attempt:
Fighting 'the hounds' was big time tough, though faaar too brief. Torch did best. Good cats and dog parallel (intentionally?) implied.
Bast=Panther God. (Was this the first time stated outside a Handbook?)
'Face' time for Doom. Judgement of Doom. God outwitted by Doom! (Yeah, its probably been done often but he did it 'honestly' this time. Shuri will be so jealous.)
Doombots Mach V (V for Vibranium) for a new generation!
PrevPage more a complete waste than usual with the nature of the long prologue recap.
The long prologue recap, although well done in itself, felt like a 4-5 pages of wasted pages given that this only issue #3 of a 4(?) issue mini! Are they really just catering to new readers hopping on board for the sake of one more issue?
Thats it for X-men assistance. They got the girl, Ororo, and wham bam thank you ma'am, we're gone.
Doom did not kill The Queen. It would have given the mini so much more weight/meaning if something significant like that happened.
How could Ororo be blown up by the nanite when he just said she was not infected. Must read it as him meaning she could be in the vicinity of an explosion. But really, can that much power be packed into a micro nanite bomb?
Really a missed oppurtunity with the background collage of Doom's past appearances. So cincy when a splash page would have REALLY worked in this case.
FIVE kinds of Vibranium was surprise. 5?! That passing line could have used more details/footnotes for my curiousity. And Savage Land IS in Antarctica.
T'Challa taking time out to try an share some of Reed's arch-enemy thing going on since FF#5.
Storm's ongoing, repeated in many titles, uber control of her power. Not that she shouldn't be Omega Level but selectively toasting people in the courtroom like that with no side effects or difficulties is a bit bothersome. They could have devoted a clearer scene to the crazy-destructive feat rather than spare room for Sue's cutesy joke.
Felt like a 4-5 pages indulgent waste with Doom's What-If world scenario of Doomworld. (Is this from an actual What If?) Another reality that will never be 616 getting sooo much face time was displeasing - just as 4-5 issues of it in DR FF was.
Doom spent time looking at 10,000 futures. Even with a fast forward feature his download time&money must be higher than thought out. Sheesh. Almost as a god looking at a million for ultimate wisdom. Have Doom learned nothing about manipulating time or is he just being a repeat offender - seems almost like 10,000 attempts in some (exaggerated) ways.
---
Overall, the story pacing had a yin/yang to it also; for or good or bad: some parts felt too fast, some too slow. Also, Sylvester, Tom, Scratch, - and now Panther God - Catss izz soo stoopid.
---
---
I miss my brother.