Don't flip thru it or throw it to the side. This penultimate issue was worth the cover price...
DOOMWAR #5
http://i.annihil.us/u/prod/marvel/i/content/12754storystory_full-5674785..jpg
http://i.annihil.us/u/prod/marvel/i/content/12754storystory_full-5674790..jpg
http://i.annihil.us/u/prod/marvel/i/content/12754storystory_full-5674792..jpg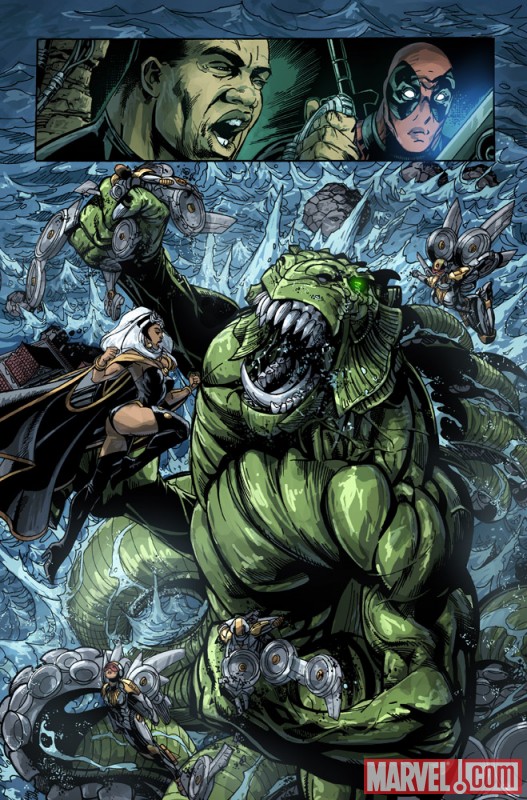 Have to keep reminding myself that technically this is not a Black Panther title, it's all about the conflict with Doom so it is not technically mandatory that Shuri get the bulk of the facetime - which she does not. On the flipside she does have a kick-ass in-context quote for Doom: "THEN LET'S BLEED HIM TO DEATH."
Enjoyed the art. However, it did tend to be too dark in hues repeatedly and the only one monotonous background color at a time seems to rotate randomly.
HATED seeing the word 'CORPS' added to DORA MILAJE.
Was reserving judgement on Wade 'til this ish...
Deadpool worked out fine!
Spot on characterization and motivation and
lots
of genuinely fun comedic input. On the flip side a chronology placement for him would have been nice.
The big fights with big bodycounts were all behind the scenes. The battles are being done more big picture. Unfortunately, the villains(all Doombot variation monsters?) come across as not that interesting or threatening if you didnt catch their kill totals. Surprisingly, have to praise the multi-ally fight action offered in the SIEGE mini, over this, but on the flip side this war is waaay more readable and believable.
"IF ONE IS WILLING TO RISK ANYTHING, THEN NOTHING IS IMPOSSIBLE." That was an great quote. Too bad T'Challa kind of contradicts this by having to hire someone to risk life and regenerating limb to test a dangerous experimental teleport device rather than take the risk himself to locate Doom. On the flip side it IS a pretty cool SHADOW PHYSICS 'porter and he IS the best Merc to choose for this mission.
This has REALLY big developments for Doom and DEMANDS chronology placement for him as well. Acknowledgement in more mainstream titles would also be nice ASAP.
The Broker is working out fine as a character. And he gives til it hurts to some fine charity choices. Oh, and it IS going to hurt when Doom gets a hold of him! He may do more than just flip Declun on his side!
Yes, love at 1st, 2nd, 3rd, and 4th sight IS possible.
We need MORE MIDNIGHT ANGELS! On the flip side, we don't REALLY get to see what they do but the imagined potential with them here is high.
The surprise appearance of outside superhero help was a most welcome sight. And Captain Rhodes was a good choice as 'WAR' Machine. (You know its coming: a chronology placement with Secret Avengers would have been nice.) On the flipside, not crazy about introducing new Starktech with the (neat concept) CYCLICAL REPULSOR in this title or that he takes it copycatting IM 2.
Great cliffhanger even though on the flipside we know there is low probability that he died and we do not know that much of Doom's new suit - all because the imagined potential them here is high.
Thats some of my comments. On the flipside: what are yours?
---
---
I miss my brother.