Previous Post
Black Panther 012 (2017)
For being simply an all-talk, action-free, aftermath play, of cerebral debate and character decisions, it had some thought provoking observations revolving around what it is to be this King of this nation. And his last page surprise reunion (if you don't read online spoilers) was not to shabby either. Not the best book out but not bad this read. Fair commentary here:
http://www.newsarama.com/33683-best-shots-review-black-panther-12.html
However, the reviewer above said, "T'Challa is arguably a bit too soft in his conversation with the Midnight Angels" and it might be argued that he was not. The Midnight Angels did what they thought was right like any respectable superhero that 'bypasses' the Law and as a kindred 'one of the good guys' it seemed like BP could empathize and did not want to summarily crucify them with inarticulated cold superiority. And so, T'Challa then made believable comments about how the 'ends do NOT justify the means' when it comes to the Law passing judgement. It will be interesting to see his final decision.
What do you think?
https://www.previewsworld.com/Catalog/JAN171028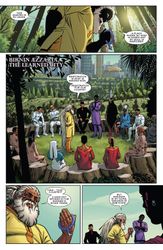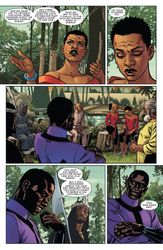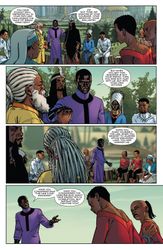 ---
Support Cancer Research. Support Alzheimer Research.
I enjoyed the issue. I thought the resolution was very diplomatic (maybe not too realistic), but good for the nation. I chuckled when Shuri said, yes...you should have let them die. Not so much for what she said, but the delivery of the statement. Given her role..I understand her position as well. Anika's reaction was a little surprising given that she was a beloved and I'm sure she has done certain 'unpopular things' in service to the crown.
As a beloved, she has enjoyed an elevated status. And I thought it was very hypocritical of her to call out T'Challa as arrogant,etc. I liked that Changmarie called her out on some of her thoughts and deeds.
The last page shocked me. I didn't think T'Challa would remain king; I thought he would hand it back to Shuri. Ah well. I laughed out loud when the first thing he decided to do ( after telling his momma the news) was run to his ex! HAHAAH! Marvel cracks me up: does everything it can (retcon after retcon) to create a couple...then runs out of ideas on how to sustain the couple ( are no writers or editors married; in long term relationships)...back to getting the couple back together again. It's almost a soap opera.
The look on T'Challa's face when he appeared before Ororo was priceless!
But I guess they had to do something to lead into the upcoming Crew...