Quote:

I'm hoping we get Achebe as the next villain.
I may be wrong but I don't think that he appeared in a book outside of Christopher Priest's 1990s run. Achebe is a very interesting villain but he is also a very obscure character.
So, I wouldn't count on him appearing as the main villain. Still, he might make a cameo (like Victor Zsasz in Batman Begins) or even be one of the 2ndary antagonists.
Since the usual "big 3" villains of T'Challa (Killmonger, Klaw, M'Baku) already appeared in Black Panther 1, I think that Moses Magnum is the most likely candidate to be the next nemesis :
- He was the ruler of Canaan, an area on the border of Wakanda (
http://marvel.wikia.com/wiki/Canaan
).
- In the comics, Moses Magnum was the world's foremost arms dealer. So, in the MCU, he might have been one of Klaue's acquaintances, or even one of his associates.
- He is not one of the most famous villains around but, in the Marvel Universe, he encountered many of the "big guns" : Spider-Man, Punisher, Luke Cage, X-Men, Black Panther and the Avengers. So many longtime comics fans know who he is.
- The Magnum Force could easily be connected to Vibranium.
(
http://www.marvunapp.com/Appendix/magnummoses.htm
)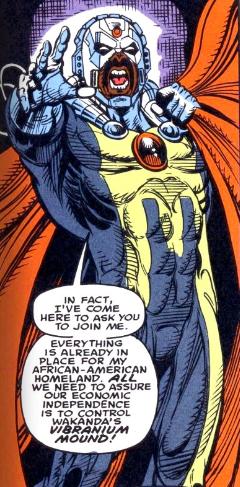 [SPOILER about the movie]
Before he was freed by Killmonger, Klaue was interrogated by Everett Scott & the Wakandans about the provenance of his prosthetic sonic disruptor.
Killmonger cannot be the one who provided the weapon since he was expecting Klaue (dead or alive) to help him enter the country. Apparently, Killmonger knew that Klaue still had a way to infiltrate Wakanda but Klaue didn't want to go back there himself again. It would suggest that Klaue knows somebody else that can do it but doesn't want to give his name away to Killmonger.
It is very unlikely that Shuri or W'Kabi would have provided such a weapon to Klaue.
Klaue didn't use any sonic disruptor before Ultron severed his arm in Age of Ultron. So, it wasn't N'Jobu who gave him the weapon before his death.
So, apparently, Klaue might know someone who still has direct access to Wakandan technology.
For example, it could be an arms smuggler who would operate on the border of Wakanda ... it would provide a very easy way to introduce Moses Magnum as the next villain in Black Panther 2 or 3.
Another (paranoid) hypothesis would be that it was Nakia who gave the weapon to Klaue. It doesn't mean that she was a part of Killmonger's plan. As a War Dog, she might have shared the same view on Wakanda than N'Jobu. Just like Klaue, she seems to know very well the lady of the underground casino in Busan. Still, it is unlikely : Klaue would have betrayed her after his capture ...