Previous Post

Didn't like the issue. I probably won't be picking up the rest of the series.

Between the economics lecture at the beginning and the government lingo peppered throughout, I felt like I barely understood what anyone was talking about.

At the same time, it felt like nothing really happened until the last page.

USAgent accidentally impersonated Captain America, and asked about the missing fuel cells. He believes them when they said they don't know about them because everyone in rural America thinks the same.

I still don't understand what Priest is going after with Agent's brother.

Yeah, it was odd -if not flawed- developments of the disagreeable premiere's followup. The ammended family backstory and inclusion of (long overlooked) Val Cooper was some sort of saving grace but so far this has been 0 for 2 in catching my attention.
https://comicbookroundup.com/comic-books/reviews/marvel-comics/usagent
-(2020)/2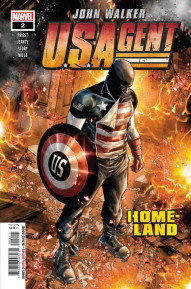 ---
---
Support Cancer Research and Alzheimer Research and COVID Research.