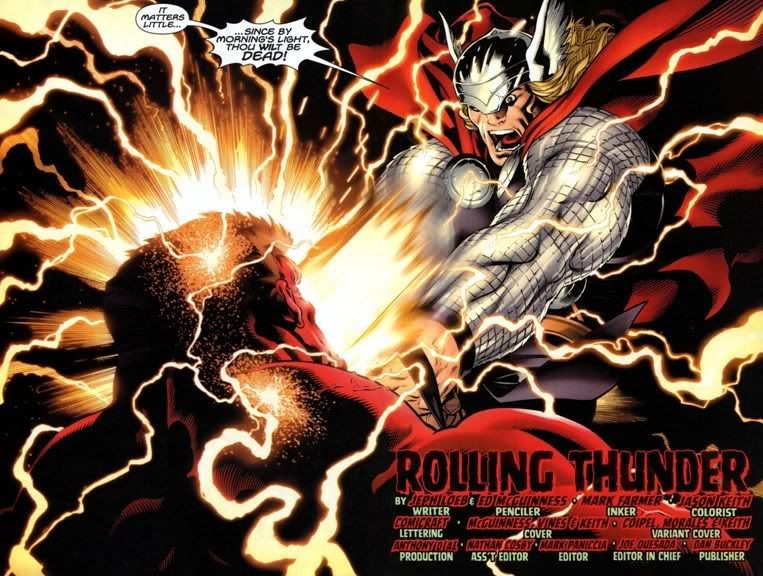 > > >
> > > Has he knocked someone w/Supes Durability in ONE HIT???
> > And Rulk broke Hulk's arm and totally abused Odin powered Thor!!!!
>
> No he beat a suprised not going All-out thor, we seen what happens when he brings His A-Game...
>
... and you consider the scan above to be poor writing and all that because according to you Thor never says those kinds of things when fighting someone for the first time but... it is what it is.
Thor's words in the scan above about Rulk being dead by morning removes any argument you could possibly make about Thor "holding back" and not going all out in the first fight. When Thor (or anyone else for that matter) is holding back he typically doesn't make threats against his opponent's life.
Hulk #6 was a bunch of crock precisely because of what happened above. Thor in round 1 was swinging for the rafters while making death threats and yet not having any real impact on Rulk whatsoever. Then in round two its like Thor is fighting a whole different Rulk... one who is actually "fearing" for his life in the wake of the
same
Thor's assault. The worst part is that the reader is left to "speculate" (like what you're doing)... with no help from the writer whatsoever... as to how how Thor could possibly hurt Rulk in round 2 when he couldn't do squat to him in round 1.
> > > Entire JLA team COULD NOT take him down physically!!!
> > They couldn't have taken Rulk down either
>
> That's where your wrong, I thibnk they most definatly could and Would...
> > >
> > > Thor and HULK pertty much owned Rhulk...
> > Yup... and Thor and Hulk would pretty much own the JLA too.
>
> MMMM, I don't know, I see Hulk losing to at least a couple of the members SOLO and would be up to Thor to pull win but that's alot to overcome...
>
> M
>
> > >
> > > M