>
> > >
> > >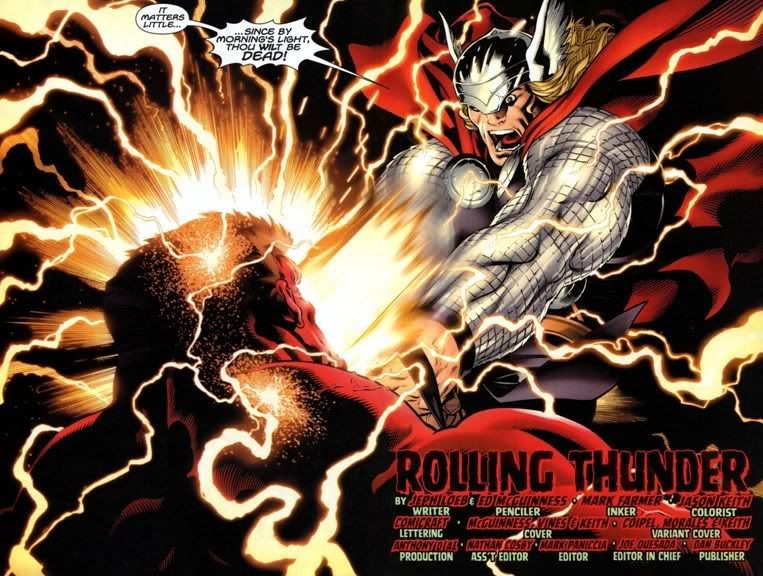 > > >
> > >
> > > > > >
> > > > > > Has he knocked someone w/Supes Durability in ONE HIT???
> > > > > And Rulk broke Hulk's arm and totally abused Odin powered Thor!!!!
> > > >
> > > > No he beat a suprised not going All-out thor, we seen what happens when he brings His A-Game...
> > > >
> > > ... and you consider the above scan to be poor writing and all that because according to you Thor never says those kinds of things when fighting someone for the first time but... it is what it is.
> >
> > According to me??? No nononon0, according to ACTUAL comic evidence that was potrayed in the past....It's a FACT move on...
> >
>
> I'm afraid your comic "evidence" from the past means zilch for two simple reasons. First of all this is a new Thor... not the classic version anymore. We have seen in Thor's own title that he has made clear to his opponents he isn't messing around but getting right to business. Ask Iron Man if you don't believe me.
> Secondly, every writer is different and no writer is obliged to follow past continuity exactly as it was before. Loeb for whatever reason went out of his way to portray Thor as wanting to end Rulk's life in that first fight. We saw this in Thor's own words above.
>
> > Thor's words in the scan above about Rulk being dead by morning removes any argument you could possibly make about Thor "holding back" and not going all out in the first fight. When Thor (or anyone else for that matter) is holding back he typically doesn't make threats against his opponent's life.
> >
> > Like I said that line was completly false and was not accurate...
> > >
>
> So just because you the reader don't like what Thor said above, that automatically makes it false and "non cannon"? LOL
> You may deny deny till the cows come home. Thats what Thor said and thats what happened.
>
>
> > > Hulk #6 was a bunch of crock precisely because of what happened above.
> >
> > Not really...
> >
> > Thor in round 1 was swinging for the rafters while making death threats and yet not having any real impact on Rulk whatsoever.
> >
> > Wrong he had effect BOTH times, hurting him...
>
> Hurting him ?
> In Hulk #5 ?
> Wow...
>
> >
> > Then in round two its like Thor is fighting a whole different Rulk...
> >
> >
> > Again it was same but different Thor mentallity...
>
> Uh huh... Thor said he wanted to kill Rulk in Hulk #5 and again in Hulk #6 he is looking to kill him as well. Big difference in mentality there...
>
> >
> > one who is actually "fearing" for his life in the wake of the same Thor's assault. The worst part is that the reader is left to "speculate" (like what you're doing)... with no help from the writer... as to how how Thor could possibly hurt Rulk in round 2 when he couldn't do squat to him in round 1.
> >
> > Where do you get that he;s Invincable in Round 1? Cause I don't see that. Rhulk actually had to use Thor's hammer to actually bring him down. Thor Was suprised by fact he caught his swing then Jumped in Space and was able to grab his hammer to beat him...Thor fights smart the second time and shows he has the Power to definatly hurt him...
> >
>
> You really think that after absolutely dominating Thor so effortlessly in virtually every aspect in their first fight, Rulk actually needed to use the hammer to finish Thor off in Hulk #5 ?
>
> Well um... I see there is little point in me carry on this debate. Have a nice night.
>
>
>
> > M
> > >
> > > > > > Entire JLA team COULD NOT take him down physically!!!
> > > > > They couldn't have taken Rulk down either
> > > >
> > > > That's where your wrong, I thibnk they most definatly could and Would...
> > > > > >
> > > > > > Thor and HULK pertty much owned Rhulk...
> > > > > Yup... and Thor and Hulk would pretty much own the JLA too.
> > > >
> > > > MMMM, I don't know, I see Hulk losing to at least a couple of the members SOLO and would be up to Thor to pull win but that's alot to overcome...
> > > >
> > > > M
> > > >
> > > > > >
> > > > > > M
> > >
>