Previous Post
Quote:

Lord Majestros:
Thor has shown that he can use Mjolnir to absorb massive amounts of energy. He's also specifically did so against The Presence (Russian guy with powers based on radioactive energy), so he's done so against a person as well. If Doc Samson can build a machine that could drain all of Hulk's energy (which he did), then I honestly don't see why Mjolnir couldn't do the same.
In fact it has failed in the past. Here the Hulk was placed in a machine that was to drain the gamma radiation from him and kill him. Coincidentally the Surfer himself is present (someone with a bit of experience draining the Hulk) and he doesnt raise any objection to the premise that this is what will happen. Still the Hulk deals with the drain in a way that, perhaps like Thos draining powers themselves, not many people would give him credit for being able to do: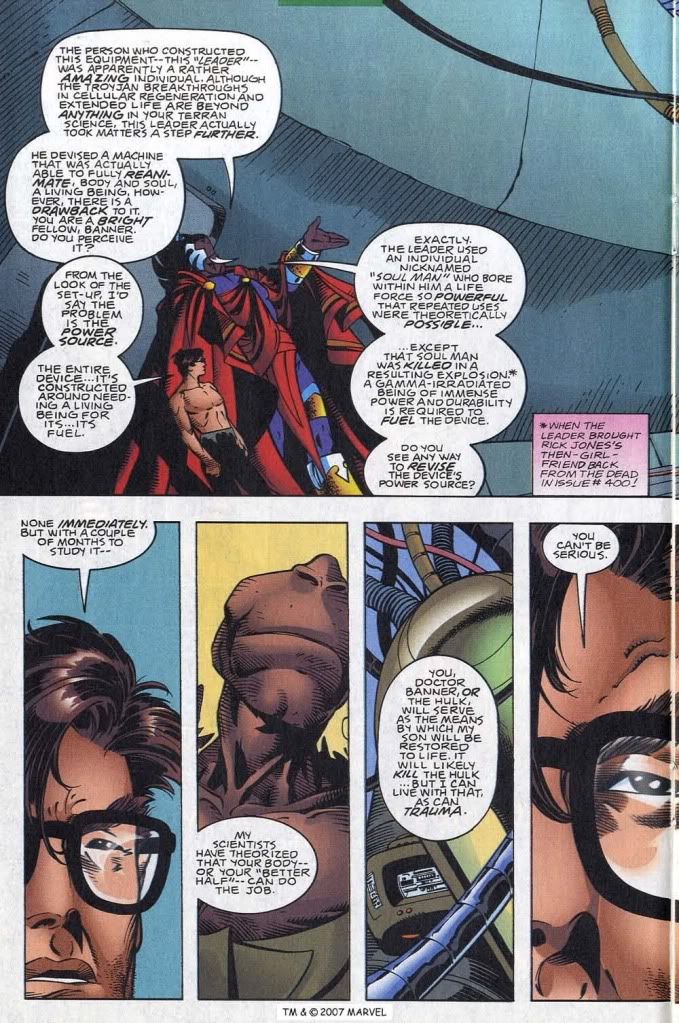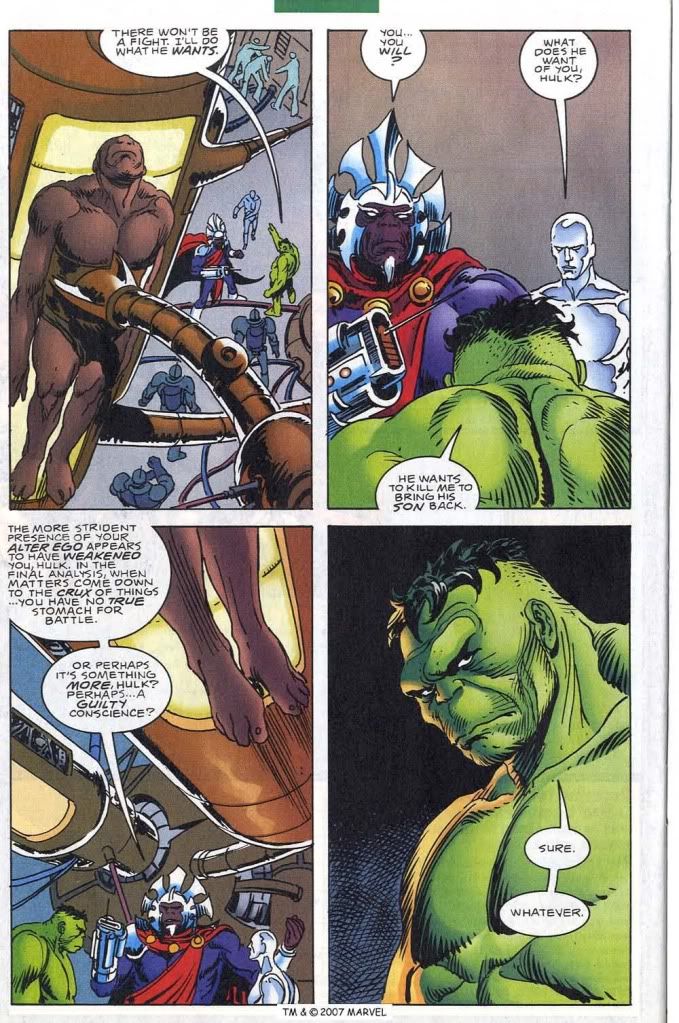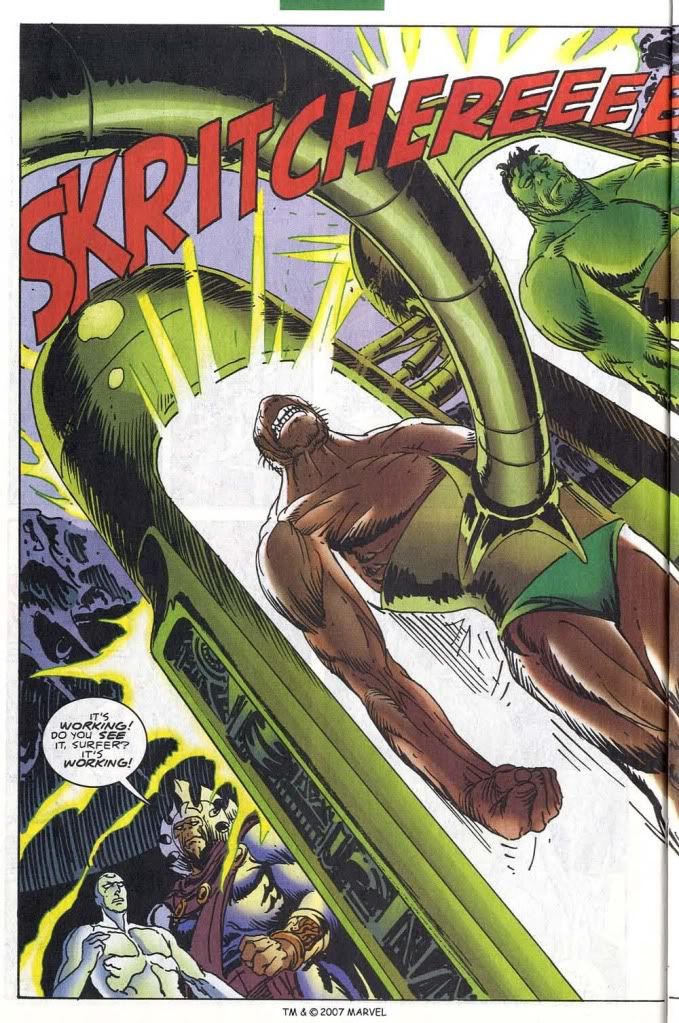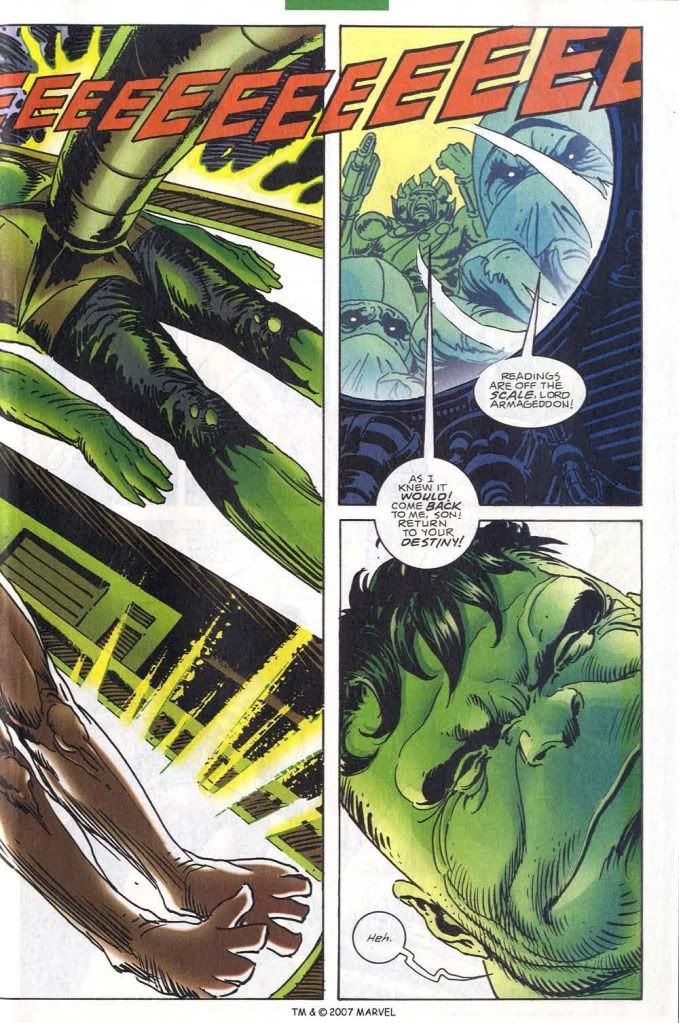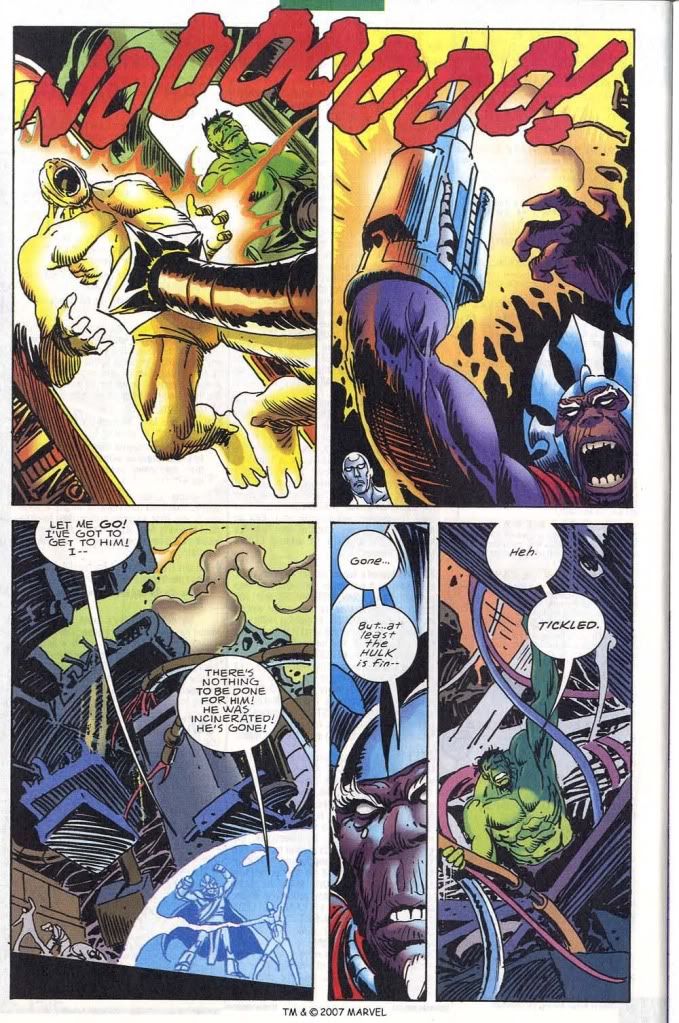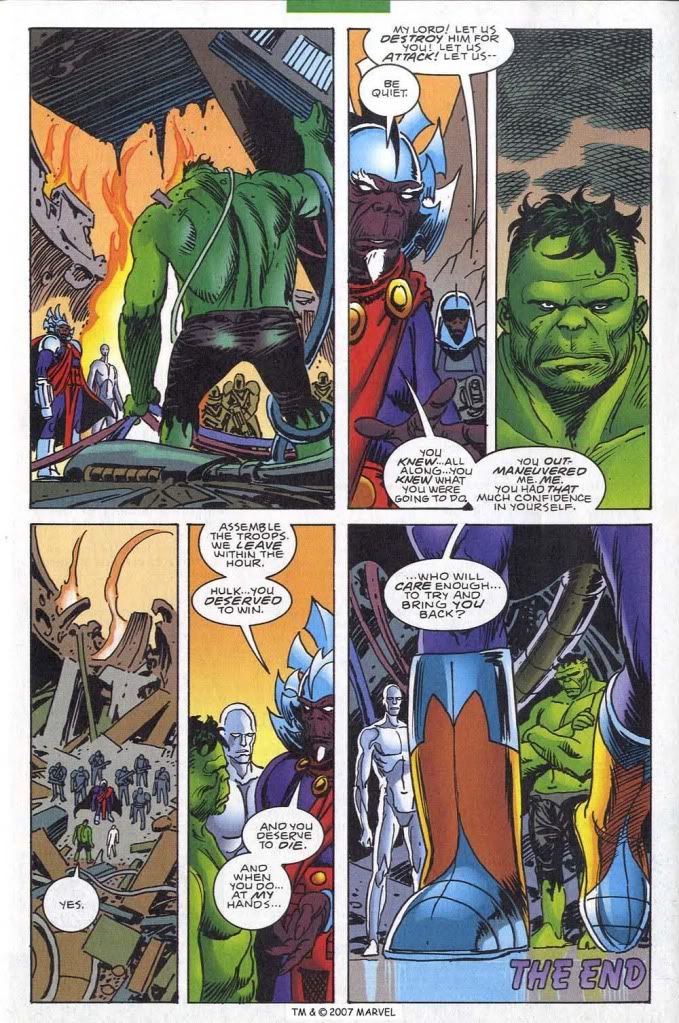 So apparently Hulk willingly overloaded the machine with gamma radiation. Rulks gamma drain from Hulk 24 powered Rulk up but didnt seem to do anything to diminish Hulks power. Is there anything that distinguishes these events from others where it has worked? Perhaps its that these involved more intelligent personas rather than the Savage Hulk who Rulk and Surfer succesfully drained. Maybe its because Hulk was angry and/or "ready for it". Maybe its just the writers opinions - theres been several instances where its been said that draining the radiation would no longer work to cure the Hulk. But i think it indicates that Hulk is more of a "gamma generator" than a "gamma battery" and if he gets worked up than he can just crank out more energy, a la Worldbreaker Hulk, even if he seems spent.
Lord Majestros:
There seemed to be more going on with the Trauma example than just a pure radiation drain. Lord Armageddon noted that the previous fuel source for the machine was "Soul Man" and he could be used because of his powerful life force. True, "Soul Man" got his power from something Leader did to him with gamma radiation. But, we've seem Hulk COMPLETELY drained of ever bit of gamma radiation in his body, so if the Trauma thing was supposed to have killed him it was more than just a pure gamma drain. However, it's a fair point. With the second time Rulk tried draining him, it wasn't long after Hulk had gotten his power back and had taken in the massive amounts of gamma radiation that turned all the heroes into gamma beings. So that was Hulk with a lot of extra energy. I'd wager that given the massive amounts of energy that that we've seen Thor capable of absorbing and containing in Mjolnir (the Kree Nega Bomb comes to mind whose energy was used to reignite a dead sun IIRC) I just don't see Hulk laughing it off.