Previous Post
Quote:

...to say that three favorable appearances suggests that Superman will "always" be showed as superior against Thor, especially since both Jurgens and Buseik are Superman advocates and were given carte blanche to publish their views as such. If a pro-Thor writer were given similar liberties, I wonder if you would argue to the veracity of the published stories as many others are doing now. Sadly, you are probably right, but not for the reasons you think. As DC's flagship character (IMO more so than Batman), I doubt that we will ever see Superman lose another battle to any Marvel character, even one whose power set exploits one of Superman's known weaknesses.
Three favorable appearances between three different writers? Yes, that's too much of a proof in Superman's favor.
And not exactly in comparison to Superman only. Thor struggled against Kalibak and needed J'onn to help him to defeat him.
imgur.com
" />
imgur.com
" />
imgur.com
" />
imgur.com
" />
imgur.com
" />
In fact Kalibak shrugged off a sucker attack from Mjolnir to the back of the head and manhandled Thor just a page later.
Superman though?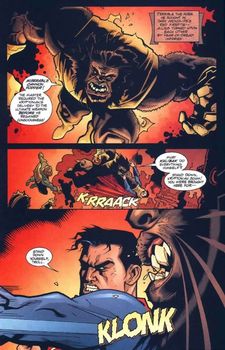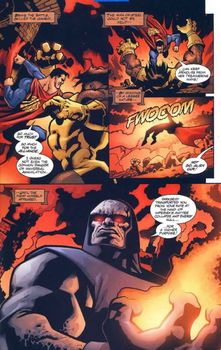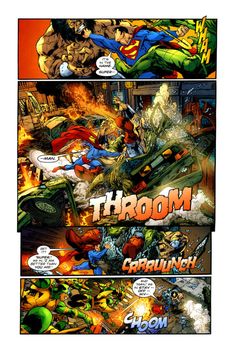 Not even a contest.
Three different,
pro-Superman
writers. If I were writing a conflict between fictional characters, of which I had an obvious bias towards one, and if I were allowed, then I too would write my favored character to be superior to the other. Additionally, your examples aren't as irrefutable as you like, because Superman has been punked by far less than Kalibak, Thor, etc. as well throughout his published history. Ergo, nothing you have posted thus far is irrefutable proof of Superman's superiority.
Now I do regard Superman as physically superior to Thor - perhaps not by the margin you do, but superior nonetheless. What I take umbrage to is your unequivocal declaration that Superman is simply superior to Thor. Thor is a physical being imbued with divine magic. In fact, much of his arsenal relies on that very magic. Superman had his clock cleaned by Captain Marvel, who stated that he was able to do so because of Superman's vulnerability to magic. Thor should be able to replicate said feat by virtue of who he is. In other words, Thor has a distinct advantage in at least one aspect, and his martial prowess should provide him with another. The writers you cite as your proof to the contrary don't seem overly interested in the big picture, and unless I'm mistaken, it seems neither do you.