Quote:

in the other crossover, at first Thor fought Superman, Wonder Woman and Martian Manhunter and held his own. he floors superman with an hammer toss, then takes a double punch from Supes and Manhunter, then floors manhunter and both him and supes are not seen again until the end, and then he fights Wonder woman.
Eh? Here is the whole fight from start to finish.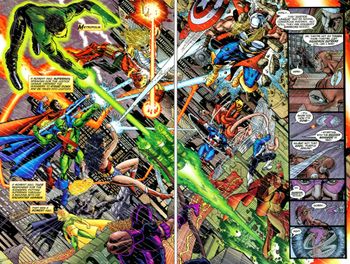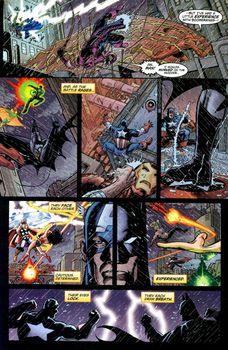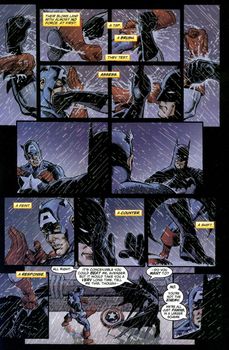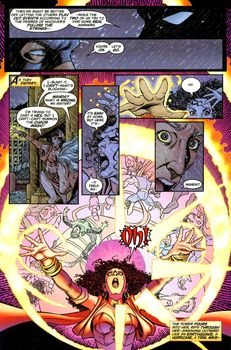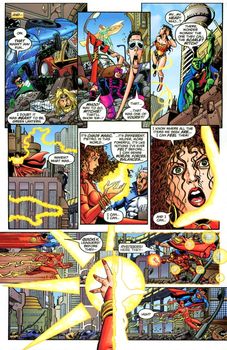 TurboImageHost
Are you suggesting Thor beat both Superman and J'onn? Because they are shown fighting others when Wanda blasts everybody.
Quote:

the fight was interrupted by Wanda chaos magic with no one truly koed, but Thor fought equally with arguably the 3 strongest fighters on the other team.
Eh, that never happened to begin with. It was a short and inconclusive fight.
Quote:

in the second fight Supes "barely" managed a takedown of Thor, which seems to give him an edge in strenght apparently. But in this fight Thor had underestimanted the kryptonian, walked into his heat vision and got distracted by his stopping mjolnir.
That's a rather colorful interpretation of events. Mind telling me how Thor got distracted?
Quote:

but later on, he has "taken the measure" of the kryptonian, so the fight might go differently because supes had "barely" won before
Thor is a sore loser then?
Quote:

we don't have a rematch, but we do have Supes feeling "the power of thor" when the thundergod gives him the hammer thanks to the failsafe of it being a "special occasion", and he feels the power of Thor as being something he "never felt" despite his being pretty powerful himself.
Yeah, Thor got some lip service. Just like Captain Marvel and Martian Manhunter do.
All three gets talked up a lot, Superman walks the walk.
Quote:

considering that in the Access fight Superman doesn't do anything more than zapping all of them, and he is made somehow of elettricity, i don't see how this gives him any kind of advantage over Thor. He managed to free everyone from mind control, but if he had had to fight everyone at the same time i don't see how he could have succeded.
So the writer randomly brought out a hero who couldn't stop them..... to stop them?
That doesn't makes any sense.
Quote:

As for KAlibak being as strong as the Hulk in the narration, it's a trope for enemies to be called out as being as strong as a rival of the hero. Thor called Agger Minotaur form "as strong as the Hulk" before defeating him and Ulik combined in one hit, and Ulik called himself as strong as a Thor before being manhandled by the Maestro; Superman called BOTH Hulk and Thor "the strongest he ever faced". I think that those comments are usually meant ot say the threat is in the same class as the hero mentioned, but on an average, not at peak. Thor needing help from Manhunter doesn't mean he couldn't have beaten Kalibak on his own, just like it didnt mean that Superman couldn't have when manhunter helped him against thor himself.
But Thor doesn't beats Kalibak on his own, Superman defeated Thor on his own.
Quote:

I Can give a very righteous Supes a slight edge in strenght as i would give a very pissed off Hulk over Thor, but only if the thundergod is not giving his all, and i think the strenght differential is not that large even in such an occasion, they are still in the same range of power, and thor could match them if he used his magical forms of amping be they berseker rage or magic belt. And in pure power, very few can match the god of Thunder, who has feats on cosmic scales and toppled skyfathers and cosmic entities in his best feats. So i think overall Supes edges Thor in phisical aspects, but thor edges Supes in power on an average, and peak versions of both could probably one shot an average portrayal of the other. Superman has a lot more weaknesses that can be exploited though, be them Red Sun, Kryptonite, Magic, all things mjolnir could find a way to use if Thor required it to. Save Superman getting the Worldserpent Venom or a Fang of his on his hand i don't see him having the same degree of use of a trump card, it's less likely.
If you think Thor has toppled skyfathers and whatnot, wait till you see what Superman has done.
Superman doesn't needs a weakness to beat the tar out of Thor. He already did it with his fists.