Previous Post
Quote:




Quote:

Okay, Thor can do the God Blast, a blast powerful enough to send Galactus running. Could Superman send Galactus running with ONE attack?



Superman has shattered soulfire darkseid in half who just defeated The Source himself. Punched a hole in Emperor Joker and oneshot defeated multiversal death.
Wow! That's taking some feats out of context! Let's look at Superman's feat against soulfire Darkseid:
So Superman flew through a Darkseid who was distracted with assimilating his newly derived power and then this Darkseid one-shots Superman while noting he could kill Superman with the slightest thought. That's not a particularly inspiring feat compared to Thor driving off Galactus.
Then Superman flies through Emperor Joker. Why is this a special feat? We're not given any information as to how durable this Joker's skin is, and Superman's attack has no notable effect on Joker except to allow him to crack a joke. And what happens next? Oh.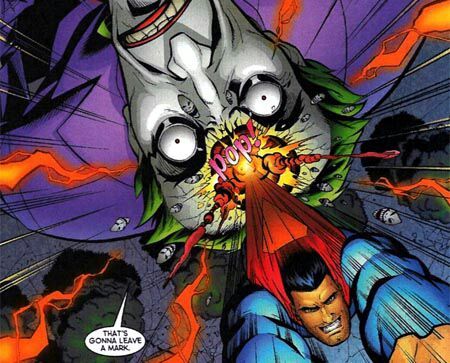 You're correct. Neither of those are feats. This is a case in point of how some extreme Superman fans give very far reaching and less than honest interpretations of what Superman accomplishes.