Quote:




Quote:

Really? I just drew this?






Quote:

The bombs were destroyed without any blasts occurring. Photon, Cap, Surfer all destroyed the bombs.
Quote:

Okay, I was wrong about the phrase "chain reaction" not appearing in the comic, but it doesn't change a thing because you completely ignore one key piece of evidence. One bomb did go off when Iron Man failed to defuse it and it did destroy one fifth of the universe! No chain reaction. Just destruction.
That's not true at all. The bombs themselves weren't that powerful. Here Photon and Surfer both set off the bomb prematurely and nothing happens at all.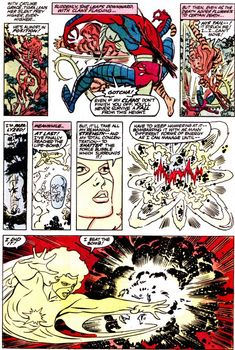 jpg upload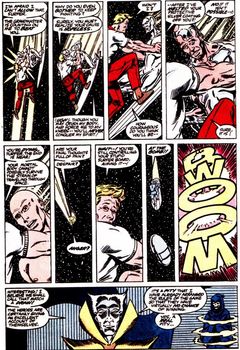 jpg upload
Quote:




Quote:




Quote:

One fifth of the universe would have died if Thor did not contain that bomb.






Quote:

All he did was cut it off from rest of space time and hence stopped the chain reaction.






Quote:

http://www.turboimagehost.com/p/15643645/Avengers_Annual_16-11.jpg.html





Quote:

Apparently you did not read your own link. Thor did not cut the bomb off from the rest of space/time. He created a vortex, which while doing so Thor "shattered the laws which govern time and space." You like to talk about Superman being able to mess with space/time. Here's Thor doing it. And it is explicitly the vortex that contains the bomb's explosion. Hawkeye says, "You managed to completely contain the force of the blast!"
Yes, he cut off the bomb from the rest of the universe inside the vortex and hence stopped the chain reaction.
The bomb itself wasn't that powerful.
Quote:




Quote:




Quote:

Dying in the process has no effect on the feat itself. Superman could not absorb the energy that could destroy one fifth of the universe. Sometimes he can't even handle the energy of a single star, much less the energy that would destroy trillions of stars.




The bomb wasn't that powerful to begin with.




Quote:

Heh, that's why he physically absorbed the power of maggeddon which could destroy half the galaxy?
Quote:

Half a galaxy? Pffft. That's nothing compared to Thor's one fifth of a universe, which contains billions of galaxies.
If only you could read and comprehend what actually happened in that comic.