Quote:

And an oil rig is far heavier than a Boulder.
Thor never tries and fails to lift up a boulder. Kurse never tries and fails to lift up a boulder. This is just some limitation that you made up. Also Superman doesn't try to lift an entire oil rig, just one tower and he fails, it falls on him, and he's unconscious from the impact.
Quote:




Quote:

Thor apparently has been knocked out, but it took the Grandmaster's device stunning Thor and Hulk's giant leap attack plus all the accumulated damage Thor had sustained up to that point in the Hulk fight. But again, an oil rig tower fell on Superman and basically knocked him out. Thor has withstood the direct attacks of an Infinity Stone wielder just fine. Thor was in the middle of the destruction of an entire city, Sokovia, and was just stunned. You know what it takes to destroy an entire city? A powerful nuclear bomb. Superman was all but dead from the nuclear explosion in BvS had he not drifted into the rays of the sun.

Thor was koed and it was implied that the stone ship falling on him would have killed him.
"Implied" by your pure speculation. Thor fought Malekith with the Aether (Reality Infinity Stone) at length, held his own the entire time, and collapsed only after he beat Malekith.
Quote:

Thor didn't survive a city exploding bomb. The city imploded on itself via a chain reaction.
You don't even know the difference between an implosion from an explosion. An implosion is a collapse inward. This was clearly an explosion with the city blowing up outward. Look at how everything flies away from the center of Thor's strike including entire buildings: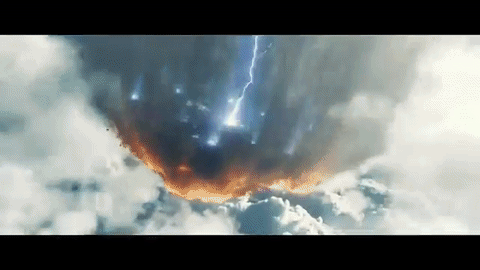 Quote:

Never mind that Superman was still weakened from kryptonite while fighting Doomsday and taking a nuke.
Nope. In the movie, we saw Superman even recovering from the Kryptonite Batman used on him in only a few minutes. Batman hit him with a second dose, but between that time and when Superman meets up with Lex and Doomsday, he had morethan enough time to have fully recovered from that second dose. Absolutely nothing in the movie indicates that Superman is weakened by that point and in fact, all his powers had returned to him indicating he had recovered.
Quote:

In Avengers it was flat out stated that a nuke would've killed everyone in New York including Avengers.
No, it wasn't. At no point does the film infer that the strongest Avengers - Hulk and Thor - could not survive. You want to establish proof through pure speculation.