Quote:




Quote:

Thor never tries and fails to lift up a boulder. Kurse never tries and fails to lift up a boulder. This is just some limitation that you made up. Also Superman doesn't try to lift an entire oil rig, just one tower and he fails, it falls on him, and he's unconscious from the impact.

No, he was just messed up with a Boulder falling on him. Thor only had to struggle with constraints on a chair. How heroic and strong.
The durability of the constraints on the chair is not measured and so there's no indication that it wouldn't hold Superman either. Also, Thor gets right back up from the boulder attack, a giant boulder that would certainly be heavier than the oil rig tower that knocked out Superman.
Quote:




Quote:

"Implied" by your pure speculation. Thor fought Malekith with the Aether (Reality Infinity Stone) at length, held his own the entire time, and collapsed only after he beat Malekith.

He didn't beat Malekith. Jane's teleporter did and Malekith was beating him down.
Semantics that has nothing to do with the point I'm making. Thor beat Malekith with help from Jane's device.
Quote:




Quote:




Quote:

Thor didn't survive a city exploding bomb. The city imploded on itself via a chain reaction.

You don't even know the difference between an implosion from an explosion. An implosion is a collapse inward. This was clearly an explosion with the city blowing up outward. Look at how everything flies away from the center of Thor's strike including entire buildings:

The city implodes on itself and the debris fall just downward. If it was an explosion it would've been blasted across a long distance.
It was blasted across a long distance! That was massive! And do you see anything, anything collapsing toward Thor. No.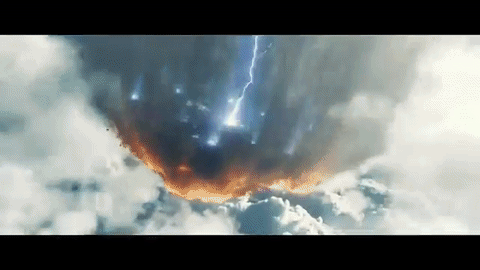 Quote:

So yes, you don't know what an implosion means.
I've just proved you're the one who doesn't.
Quote:

The vibranium amped Thor's strike. It was not his own power.
Vibranium is just a metal. The power is Thor's. We've already seen Thor's power used similarly when he destroyed a huge swath of Jotunheim so this is well within his ability.
Quote:




Quote:




Quote:

Never mind that Superman was still weakened from kryptonite while fighting Doomsday and taking a nuke.

Nope. In the movie, we saw Superman even recovering from the Kryptonite Batman used on him in only a few minutes. Batman hit him with a second dose, but between that time and when Superman meets up with Lex and Doomsday, he had morethan enough time to have fully recovered from that second dose. Absolutely nothing in the movie indicates that Superman is weakened by that point and in fact, all his powers had returned to him indicating he had recovered.

When Superman gets at full power his wounds heal immediately. The cut from kryptonite spear is shown until he was healed by the sun.
Superman's power is that his wounds heal immediately? Now you think Superman and Wonder Woman are Wolverine. Nonsense. That awful BvS just happened to be on HBO last night and I turned it on during the Batman vs. Superman fight. After Batman first sprays Superman with Kryptonite, Superman recovers his powers in 2 minutes. Far far more than 2 minutes pass between the end of the Batman fight and when Superman starts fighting Doomsday. When Superman is fighting Batman, his durability is vastly weakened such that a bathroom sink ko's him. If he were still affected by Kryptonite and had the durability he had when fighting Batman, then Doomsday is about as weak as Batman.
Quote:

Fury straight up says that the nuke would kill everyone in the city. That's what the plan was, kill everything and avengers were casualties of war.
Actually, I just reviewed the movie which I own on Blu-ray and Fury states no such thing. Fury's closest statement to that is, "The payload will wipe out Midtown." Since I live in Manhattan, I can tell you that Midtown makes up about one seventh of Manhattan, and Manhattan in turn makes up about one ninth of the land mass of New York City. So no, Fury says nothing about killing everyone in the city. Wiping out Midtown says nothing about how the missile would affect Hulk or Thor.