Wow. Some of your answers should have been recapped by some bonus character, in a panel or two, saying them as Batwoman fought her splash page. It would have made the story that much more coherent unto itself(but NOT a PrevPage).
Thanks l.k.!
> You should've really picked up the Question miniseries with Montoya.
> Out of all the crossover books that spun out of 52, this was one of the strongest books, with a great creative team and an interesting hook.
Hmmm. Felt burned with the few that were sampled but will not close my eyes if it pops up a flea market...
>
> You'll be spoiled if you read further...
> >
> > REVELATIONS 2
> > http://www.dccomics.com/dcu/comics/?cm=10139
> >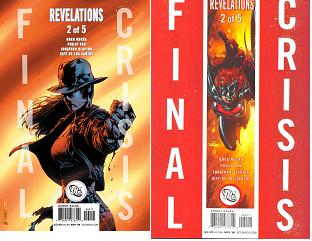 > >
>
> > Why does Wrack also want to kill Montoya for Our Lord?
> >
>
> Montoya, at the end of of the Question series, has the choice of killing the leader of the Order of the Stone, or not killing him. She chooses not to kill him but accidentally kills him anyways. This results in Montoya becoming the leader of the Order of the Stone...something she vehemently opposes even though the cultists still follow and plague her.
Aah. That makes the Spectre's course more understandable.
>
> > Why is The Spear sticking in Wrack's gut? What was the last arc it was in? And how does Wrack survive an energized strike from it by Montaya?
> >
>
> The last time the spear of destiny was seen was in a JSA issue where the Dragon King had control of the Spear.
Dont know DK. Sounds like a bad guy. That's not a good status for the Spear.
>
> > Remind me about the Crime Bible? What's it's story - so to speak? And why/what is Batwoman fighting over it?
> >
>
> Batwoman is fighting over the Bible because she understands the power of the Crime Bible and knows that whenever there are cultists of the Crime Bible, there are people trying to kill her. Her death would bring about the "Apokolips on Earth", where Gotham becomes the first of many firepits on Earth.
Recall some brief use of it in 52 or Countdown now. No interest to double check ATM.
>
> > Where's the Gehenna procphecy from?
> >
>
> That is new.
>
> > Mercy is an interesting balance for Spectre - is this her intro? And was Sister Clarice from GCPD? And previously alive for readers?
> >
>
> That is new too.
>
> > So, Libra had nothing to do with surviving Spectre, it was God who forbid him? (Libra can NOT have friends in On High places!)
> >
> > Why are they calling Vandal by the name of Batgirl's father, Cain?
> >
>
> Cain might also refer to the person who inspired the Crime Bible. Many of the characters in the Bible are actual DC characters (like Lilith or Darksied) by go by different names. The cultists may believe that Vandal Savage is the Crime Bible Cain.
Hmm. Was also tempted to type Batgirl's father 'or Abel's brother'.
>
> > When was Vandal marked by Spectre? Does this appearance of his follow Planet Salvation? (Hope that Event wont be forgotten by writers so quickly too.)
> >
>
> Stabbing Vandal Savage through the chest might've made him the Biblical Cain, which is why he mentions being marked by the "wrath of god."
>
> > It was interesting that Crispus killing his son was addressed but wasn't Mercy's answer for that a little vague, with the Abraham analogy, just so a plot device could save Montoya?
> >
>
> It was Greg Rucka who wrote both stories, I believe, so it was a natural outcropping of character? I think that is meant to be vague, but I think the interpretation is one use often in church.
>
> > Maggie Sawyer? Isnt she supposed to be in Metropolis related titles? What's up with her?
> >
>
> She was a Captain hen Gordon was out of Gotham. I believe that Maggie is one of the few cops that remained in Gotham after GCPD.
>
> > The anti-life equation where numbers are substituted by random(?) emotions? (No wonder Darkseid couldnt do the new math.
)
> >
> This is Morrison's answer to the Anti-Life equation, which has remained pretty constant since his Seven Soldiers: Mr. Miracle story.
>
> loneliness + alienation + fear + despair + self-worth ÷ mockery ÷ condemnation ÷ misunderstanding x guilt x shame x failure x judgment n=y where y=hope and n=folly, love=lies, life=death, self=dark side
Did not know this! This is very cool to find out it's been quantified. May have to look for SS at the flea too.
>
> > Okay, some recent titles are ignoring selective events in Countdown (BLECCH to that) but did Darkseid fail to make the Fifth World? And is his Dark Side racket effectively over at this time?
> >
>
> Darksied is attempting to make the fifth world, through corrupting and broadcasting the Anti-Life equations thorughout space.
Thought he was trying to engineer a new reality or world not just assimilate an existing society or world. Hmmm. Thanks again.
>
> > Uuuhh, is Batwoman a sharp toothed Vampire or something?
>
> This is what happens when you have the anti-life equation recited to you or you recite it. You turn a bit nutty.
>
> > Why bothering getting issue 3? (That's a rhetorical one.)
>
> Revelations is a good book, but you have to be following Question and Spectre to fully appreciate.
>
---