Despite the nice selection of superhero guest list and moral support the issue didnt do much for me... Might stop the bradyshots too..
THE FLASH #247
http://www.dccomics.com/dcu/comics/?cm=10715
s
p
o
i
l
e
r


s
p
a
c
e

> > I figure if the series had to end (again), at least it ended with a decent story. It was better-written than "Finish Line," and actually made an effort to tie things together. It didn't burn its bridges (that, presumably, would be reserved for Final Crisis or Flash: Rebirth.
> >
> > I do think this issue suffered from art-by-committee. Art changes normally don't bother me if the styles are similar, but several of the artists had markedly different styles.
Yeah.
> >
> > Anyway, there were some nice thematic links: Wally being Linda's beacon this time, rather than vice-versa.
Like when Z called her.
> > Iris using the speed force to solve her father's problem, like he solved hers and Jai's in the last storyline. The Titans going after the HIVE again.
> >
> > It managed to be less of an ending than the final issues of Barry's or Bart's series (each of which was very final in its own way), and more of an ending than the previous final issue of Wally's series (which just sort of said, "Oh, it's over. Bye." on the last page). Sort of pinning down everything about where Wally's been and where he is now, leaving the future open for appearances in other series.
Ambivalent about it.
> >
>
> Nice that a Flash book can end without a death but seemed a bit anti-climactic.
Yeah.
> > He Just quits again. So the next time Captain Cold or Mirror Master starts to kill and pillage people Wally is just going to sit back and say-"Sorry, the kids come first." Just don't buy it. But hten again-it is only a comic book.
Ditto.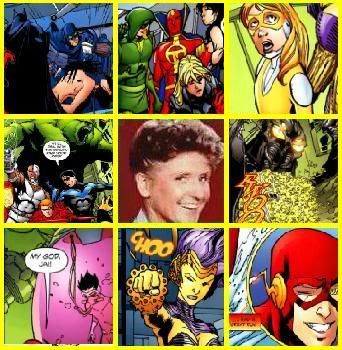 Thought the Spectre thing couldve still gone somewhere further.
Still tired of Dr. Midnite.
BL is getting lots of face time in lots of titles - good for him!
Dont like WW shown only standing around in one panel.
The scene comparing to Batman's loss was okay.
The brady kids FB adventure was painful.
Making ash of the drone - OUCH - that'll leave a mark (ie emotional scar) on Iris.
Too rushed fight vs HIVE.
Dropping the SpeedForce Device... huh... hmmph... probably her escape plan reason for her next appearance.
So so ending.