Previous Post

I had a few of the early issues of Zot way back when, but I'll confess the charm of the series escaped me at the time. I regret not getting into it more completely. But now I have another chance it seems, at least to get some of the Zot experience.

See the article linked below for details, but it seems next year will see a big reprint of the Black and White Zot stories (the color ones apparently not deemed good enough by McCloud for this collection). I can only hope that if they do this they will follow up with the rest.


Rip Off

I'm missing about one issue of the original colour stuff. What design ZOT has! And it does look sharper in black and white!
Corn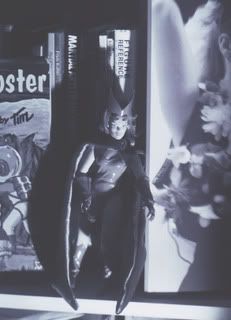 Reading: ADAM STRANGE SHOWCASE vol. 1, THOR ESSENTIALS vol. 3, FANTASTIC FOUR ESSENTIALS vol. 4, miscellaneous PEANUTS paperbooks and HOW MUMBO JUMBO CONQUERED THE WORLD by Francis Wheen.
Listening: ADVENTURE; Television, 154; Wire, COME WITH US; Chemical Brothers, SONGS FOR THE DEAF; Queens of the Stone Age, RED MEDICINE; Fugazi, EASTER; Patti Smith Group and POST by Bjork.
Watching: FLIGHT OF THE CONCHORDS, THE MIGHTY BOOSH and FATHER TED. And I've watched IN SEARCH OF STEVE DITKO and THE COMICS SHOW (doco with me in it about Kiwi cartoonists.) On 16 mm: A random RETURN TO THE PLANET OF THE APES episode and lots of DR SUESS.