Previous Post
Tony Stark - Iron Man 008
An enjoyable issue.
Perfect cover for the perfect unique cliffhanger tease. It's V.R. liquor but real psychological addiction. Fascinating twist on all the potential storypitches we could have gotten, by this point, for Tony potentially falling off the wagon.
Refreshing global locales. Lovin' Marvel increasing appearances by the Winder Guard in it's books.
Controller (continues to be) a fun villain here.
Heartracing teases for the different fates (next ish) of so many supporting cast. Andy. Friday. Cabe. Stack. Amanda. And even Wasp and Manticore to a lesser degree.
Spot on Donald Duck analogy.
Can't wait to see where this V.R. family reunion goes!
Hmm... WTH is the inside joke with Michael Bolton playing Johnny Depp ref??!!
Hmm... was there some back issue image that served as template for Tony taking off his helmet on page 19?
Hmm... who is that he's fighting on the cover of #9?
PREVIEW SOURCES:
https://comicstore.marvel.com/Tony-Stark-Iron-Man-2018-8/digital-comic/50409
https://www.comicboards.com/php/show.php?msg=ironman-2019020100102909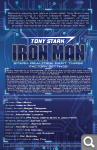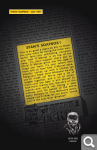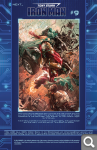 ---
I miss Dad & Dan.
I rechecked the issue 9 cover image,
He's fighting original versions of Crimson Dynamo and Black Widow in his old horned helmeted armor.
Had to dig a bit about the Bolton/Depp thing:
https://en.wikipedia.org/wiki/Jack_Sparrow_
(song)
Hm, so does drinking VR liquor still get Tony drunk and is he still an alcoholic after being reborn a couple of times now?
Also note how the Maria/motherboard's eyes light up and glow, how Tony's eyes seem to light up and glow as his armor is hacked by mother board and how Bethany's glow when the Controller takes over her mind again.
Perhaps Motherboard was hacked by the Controller rather then acting on its own?