Quote:

Hopefully this is multi-issue, because I want the Tales of Suspense #62 origin to get a reprint.
Yes, they are saying that it is "Reprinting Material from Tales of Suspense (1959) #50, #56" but #56 is the 1st appearance of the Unicorn and I don't remember Mandarin appearing in this issue.
Quote:

A side-effect of the Shang-Chi movie?
Yes and he has not appeared in an Iron Man book for quite some time.
His murder was a stupid idea and I suppose that it could be retconned as the death of some kind of doppelganger (clone, LMD, adaptoid, et cetera).
https://comicnewbies.com/2018/08/27/the-punisher-kills-the-mandarin/
Maybe, they plan to reintroduce (and reinvent?) him in 2020, just in time for the marketing campaign of the Legend of the Ten Rings?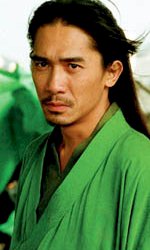 NB: just like Kingpin became Daredevil's nemesis in 1981 after being one of Spider-Man's archenemies, it is highly possible that, in 2020, Mandarin would replace Fu Manchu as the opposite number of Shang Chi even in the comic books. It is also possible that there would be a new iteration of the Mandarin around instead of the classic Iron Man foe. That's what they did with Whiplash (Anton Vanko instead of Mark Scarlotti).
Quote:

Penguin and Black Mask
I suppose that you are talking about the Pain & Prejudice Penguin and the original Black Mask by Moench & Mandrake since these versions portray the antagonists as "Reverse Bruce Wayne".
The original Black Mask was obviously the direct precursor of Hush. Unfortunately, that's something that has been forgotten after the introduction of Thomas Elliot. Sadly, currently, Black Mask is only portrayed as a sadistical & sociopathic mob boss with a Black Skull head, up to the point that, sometimes, he sounds like a street-level version of the Red Skull without the political background.
Currently, I think that Dan Slott is clearly portraying Arno Stark as a Reverse Tony Stark (// the Iron Man equivalent to Superior Octopus). I still wish that it is revealed that Arno Stark is either the Mandarin in disguise or one of his minions but Dan Slott may have another idea in mind... After all, the theme of Arno resurrecting Howard & Maria is very close to the Clone Conspirarcy.