> I loved B&B 100 as a kid, Corn!
I even looked at the tale as a JLA tale (with Robin), and got a kick out of it.
Right.
> It was one of the few Batman-Robin team-ups, too, that didn't have Robin kidnapped and Batman trying to find him. Heh.
What issue was that plot in?
> Kind of a tangent: I'd always wished Brave & Bold, DC Comics Presents, and World's Finest would've had a serial crossover that culiminated in Justice League.
I can see it. I've thought that JUSTICE LEAGUE OF AMERICA or JLA as it was should cross over into JSA or JUSTICE SOCIETY OF AMERICA - and have an issue in each other's book by the other book's creators.
PS: Got the SUPERGIRL SHOWCASE.
Corn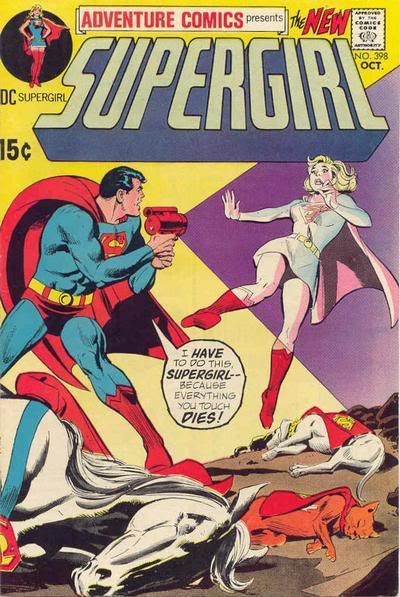 Reading: HARVEY COMICS CLASSICS: vol 3: HOT STUFF, SUPERGIRL SHOWCASE vol. 1 (any amount of Jim Mooney), CAPTAIN MARVEL mini series #1-5, THE TWELVE #0-4, CLANDESTINE #1-3, MS MARVEL #18-25, NEW GROUND #8 and 9 (published by Gotham Comics, the store in Onehunga, Auskland), ARIEL - poems by Sylvia Plath and finishing off GOD IS NOT GREAT by prime polemisist, Christopher Hitchens.
Listening: John Coltrane, Miles Davis (playing together, as well), the Psychedelic Furs and Brian Eno.
Watching: MANSON (1973 documentary with incredible 16mm film with the Family demonstrating their tendencies - forget your "Reality TV"), CHILDREN OF MEN, THE DEPARTED (finest Scorsese in years), ANNIE HALL, BROADWAY DANNY ROSE and BEE MOVIE ("What's the deal with beehive honey?") No TV.