Quote:




Quote:

I just tried logging on to the Daredevil forum to find it's closed so I thought I'd post here.



It closed a while ago, sadly. But this board is a fine place to talk about DD.
Yep.
Quote:




Quote:

Has anyone been reading the new series of DD?


I have. I still can't decide if I like it. Nice art, though.
This ish had a GREAT spot-on cover too.
Quote:




Quote:

Three issues in and we're back to classic DD.



Matt just seems lost. But yes, this is a classic post-Frank Miller kind of story. I keep thinking Matt should be more formidable, but then I remind myself that he started this story arc wounded. This is the story of what it looks like for Matt to be less than 100% and trying to deal with the insanity he calls a life.
Shades of Frank Miller's run, in this ish, indeed.
Quote:




Quote:

The final few pages of #3 had the Punisher as he should be written.
Fingers crossed.
---
Daredevil 003 (2019)
If this is among someone's first Daredevil reads, you should find this installment very good. But if you're familiar with DD, longterm, then it was just a very... solid installment. Nothing that hasn't happened before - many, many times. DD chased by the PD and repetitive A-List guest appearances by the fan favorite staple foils: Kingpin and Punisher - once again. Really, there's nothing unique to note in #3, except possibly the presence of Det.North, but
it deserves a nod
for being a entertaining read.
https://comicstore.marvel.com/Daredevil-2019-3/digital-comic/50972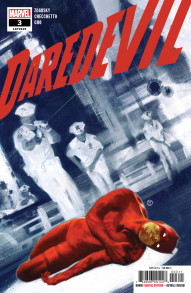 ---
Support Cancer Research and Alzheimer Research.