Quote:

The talk Miles had with Miss Kassem about her dead daughter Faridah was poignant. This scene is an example of why I buy the book.
Liked that scene a lot, too!
Quote:

This is Wolfman and Perez's New Teen Titans done Marvel 21st century style.
Wow, that's high praise.
Quote:

So then we had some War of the Realms fisticuffs and ray-blasting, which was good, as far as it went.
Maybe as far as it went but this near-nigh casualty/injury CCA-trope happening at the same time as the Realms' Monsters global progress is so annoying to reconcile since the beginning. At least with Secret Empire, much of the 'takeover' seemed more everyday subtle thus believable. There's still been lacking proper processible presentation of the segue or scope with the Invasion's changes and casualties. This part continues to be "deal breaking."
Quote:


I only care about Kamala and Viv - oh, but wait, I'm connecting with Dust now.
It'd be nice to get the deets about Dust hooking up - in Australia of all places. Also, why didn't Nate invite her to AoX? Was it just a Bullpen Editorial decision?
Quote:


I guess maybe there's hope for me and Patriot, Power Man, and Bombshell. I don't have anything against them. I just haven't connected with them yet. I would swap them out in a heartbeat for Wasp, Iron Heart, and Brawn.
It will be curious to see how AND IF the writer will reunite those 3 'quitters' in this WotR crisis. Especially with Pinpoint jumping the team to and fro. It looks like there's plans for Miles. Do The Champions have a website that (irresponsibly) broadcasts where they are at any given time if they don't answer Miles' text asking where they are?
Quote:

And then Scott joins the fray! WOOHOO! I am so totally into this! Probably weird, since I didn't read the issues where teen Scott was a member of the team. But I was aware of them. And I know those adventures mattered to teen Scott.
Quote:

"TO ME, MY CHAMPIONS!"

Yeah, that was a little much. But I get it.
Yup. Trying to give readers some X-ginchy. At least they didn't blatantly copy a cliche Fastball Special after he showed up.
Quote:

Scott is both X-Man and Champion. He was influenced heavily by Xavier but he was also touched on a deep level by Kamala and the rest of the Champions who are still around from that time. That full-page scene is the pay-off, for me, of the whole weird teen-X story line that went on for so long. That story line wasn't merely a "What If" as I like to name stories that leave no trace at all on the main 616 time line. A definite trace has been left. Scott feels real allegiance to the Champions as a team and to the individuals he remembers. This made me feel really good.
This was the other glaring fail here, imo. Trying to process the continuity placement of Scott going into this battle with his rescue mission in UXM. So, NYC evacuation was not complete? The North Pole Avengers did abandon survivors? The UXM comes to Queens to establish a priority shelter in a wide open stadium? It's noble that he honors his Champions roots but isn't it also a bit oddly selective to "run off" alone to another continent, to just take charge(ie.help), under these dire circumstances?
Quote:

The inspiration Scott provides to Kamala was moving to me. I got a little misty-eyed. And then when she comes to realize that adult Scott and teen Scott were and are the same guy, she leaps into his arms with joy. Once again, I got misty-eyed. This is good stuff. This is why I buy the book.
Liked that scene a lot, too!
Quote:

So then we get some more troll-bashing and first person narration from Kamala - have I mentioned how I love first person narration? - and then Scott gives Kamala a Captain America-worthy pep talk. Yeah, you guessed it, more misty eyes.
Quote:

This is the Scott Summers we need and want, or at least, it's the Scott Summers that I need and want. And the reason we're getting him is the memories he has of his time as a teen in our modern day, especially his time on the Champions. Not a "What If" at all, that story.
Yeah, Scott's been handled quite well since his return from the dead. His and Miles characterizations were likable - otherwise this installment didn't really excite me.
Champions 005
https://comicstore.marvel.com/Champions-2019-5/digital-comic/51352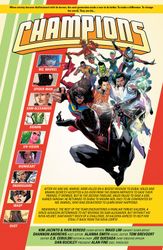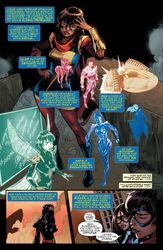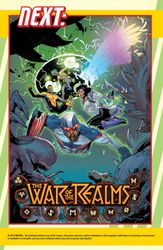 ---
I miss Dad & Dan.