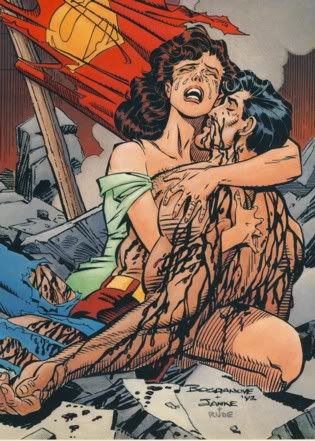 What are your memories of this event from 1992-3?
I have been strictly a Marvel fan all my life, but this story was one that made me cross over into the world of DC. It was the first time I had ever seen a line of more than 2-3 people at the comic store. I think it was about 10 people deep, several obviously not comic fans, when I bought my issues, and much longer when I left the shop. I was able to get 4 of the 7 issues in the crossover, including 2 copies of Superman 75, 1 of which I still have in it's black bag.
I don't blame the comic companies for publishing such events. They do boost sales in a slumping market, but I do resent what these types of stories have become. In the old days, a character would be "killed" as a cliffhanger ending to one issue, and then "get better" in the next ish. Now, it's dragged out, over hyped, and over cross-overed(?) into so many issues that you feel you're wasting your time and money. But, again, these issues sell more than non-event issues, so who am I to say it's wrong? I just don't buy them.
Anyway, I recently picked up a beat-up copy of the trade, for under $2, and just finished it. It was a good story, even though it was just a long battle story, most of which was a set up to show how insanely powerful Doomsday was. I have to admit that it did seem to lose some of it's emotional impact after 20 years. I'm sure it lost some shock value, even though back then, the finale was certainly not a surprise. A few things puzzled me, as I wasn't a DC reader at the time: Lex Luthor had hair, and was apparently his son; Supergirl was with him(and what
was
she really?); Doomsday, who punched someone in the face so hard that his head exploded, slammed a car door on Booster Gold's head, yet didn't kill him (and why would Doomsday do that? His power level is so beyond the need to use a car door as a weapon), but was able to kill Superman. Also, Superman didn't seem as powerful as I had expected, but wasn't he powered-down after the Crisis?
Superman 74 had a great cover.
As with many stories from the time, I think it suffered a bit from having a rotating creative team, but still, this was a solid story with good artwork. Almost immeadiately after finishing it, I won the World Without A Superman trade on ebay. Should be here next week.
Does anyone else have any thoughts/memories/info on this monumental storyline?