Previous Post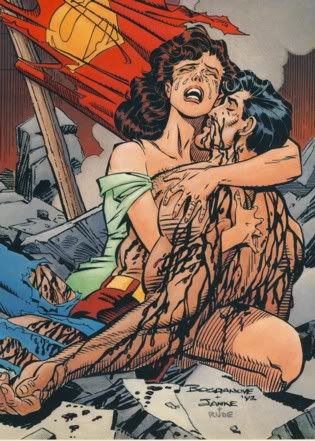 What are your memories of this event from 1992-3?
I have been strictly a Marvel fan all my life, but this story was one that made me cross over into the world of DC. It was the first time I had ever seen a line of more than 2-3 people at the comic store. I think it was about 10 people deep, several obviously not comic fans, when I bought my issues, and much longer when I left the shop. I was able to get 4 of the 7 issues in the crossover, including 2 copies of Superman 75, 1 of which I still have in it's black bag.
I don't blame the comic companies for publishing such events. They do boost sales in a slumping market, but I do resent what these types of stories have become. In the old days, a character would be "killed" as a cliffhanger ending to one issue, and then "get better" in the next ish. Now, it's dragged out, over hyped, and over cross-overed(?) into so many issues that you feel you're wasting your time and money. But, again, these issues sell more than non-event issues, so who am I to say it's wrong? I just don't buy them.
Anyway, I recently picked up a beat-up copy of the trade, for under $2, and just finished it. It was a good story, even though it was just a long battle story, most of which was a set up to show how insanely powerful Doomsday was. I have to admit that it did seem to lose some of it's emotional impact after 20 years. I'm sure it lost some shock value, even though back then, the finale was certainly not a surprise. A few things puzzled me, as I wasn't a DC reader at the time: Lex Luthor had hair, and was apparently his son; Supergirl was with him(and what
was
she really?); Doomsday, who punched someone in the face so hard that his head exploded, slammed a car door on Booster Gold's head, yet didn't kill him (and why would Doomsday do that? His power level is so beyond the need to use a car door as a weapon), but was able to kill Superman. Also, Superman didn't seem as powerful as I had expected, but wasn't he powered-down after the Crisis?
Superman 74 had a great cover.
As with many stories from the time, I think it suffered a bit from having a rotating creative team, but still, this was a solid story with good artwork. Almost immeadiately after finishing it, I won the World Without A Superman trade on ebay. Should be here next week.
Does anyone else have any thoughts/memories/info on this monumental storyline?
Well anyone should know that killing an icon like Superman is just not impossible and that he would be back.
A few answers for you:
1. Luthor used to wear a kryptonite ring to keep Superman at bay but ended up with terminal kryptonite poisoning and was dying. he apparently died in a plane crash but his mind was transferred into a young clone body and he posed as his son for a time.
2. The Supergirl at the time I think came from an alternate Earth that Superman went to that was conquered by General Zod. If memory serves, at the end of that tale, Superman executed Zod and his crew.
3. Doomsday slammed the car door on Booster Gold due to Booster not being mandated to die, so they just took him off the board without killing him.
4. Superman was powered down after the Crisis, yes.
5. Doomsday is basically a ripoff of the Hulk, when you think about it this whole story was what would happen if Superman fought the HULK.
After Superman returned and stopped the Cyborg Superman and regained his powers, the Phantom Stranger visited him and Lois and showed them what happened as Superman's memory was a bit foggy. Superman had some trouble realizing that he was indeed dead. The Phantom Stranger showed them the fight, showed them the aftermath and explained things.
1. Superman always absorbs solar energy but in the fight with Doomsday he was expending more energy then he was absorbing. Hence why his wounds weren't healing and he was getting more and more injured in the fight.
2. His spirit did go to the hereafter to later be retrieved by Pa Kent and was convinced to fight his way back to life.
3. Superman's body still had solar power in it and it was still absorbing solar energy, hence his wounds were healing and his body was in a deep coma or suspended animation. The eradicator tried to possess Superman's body but couldn't as Kal-el's spirit returned at the time so Eradicator created a copy to use and took Superman to the Fortress and dumped him into a solar energy matrix to heal and recover but the Eradicator drew power from the matrix to be his own version of Superman/Punisher.
4. Kal-el revives and goes to stop the Cyborg. He is running on minimal solar power but when the Cyborg tried to blast him with Kryptonite, the Eradicator intercepted the blast, absorbed the power added it to his own and purified the energy and let it all channel back into Superman.
5. Doomsday's origins were later revealed to be that he was the product of an ancient Kryptonian genetics experiment to create the ultimate surviving/killing machine, however he couldn't be controlled and killed his creator and kept on killing. He ended up on some world that defeated him and blasted him into space where he ended up on Earth. Doomsday when beaten is said to regenerate and evolve so that he can't be killed the same way twice, whether that is still in effect I do not know.
So basically Doomsday follows the old rule: to truly be able to hurt or kill Superman you have to be from Krypton....or have some Kryptonite.