Previous Post
Quote:

*groan* Whats the math on all the love triangles can Namor have Scott/Emma/Namor T'Challa/Ororo/Namor, Reed/Sue/Namor, Abira/Marrina/Namor, Herc/Namor/Namor...
It's good to be the Prince of Atlantis.
Quote:




Quote:

Part of Age of X was that all the mutants went through a Groundhog Day situation, where every day, human soldiers would attack them over and over and over... Cyclops/Basilisk noticed something strange in that the dog tags of the soldiers were repeating. Anyway, after it's over, Blindfold mourns the dead... all of them... even the repeats.


Darn, was going to add but neglected to mock Scott in Schism review when he cried about not at all being able to see the future - Hello? Blindfold?
Yeah, but she's not all that reliable. She either babbles about stuff that makes no sense or tells people too late or too little info.
In Schism #1, Scott was bemoaning about having no defense against the whattheheckIScoming threat including any foresight. It was an intentional character moment but still came across as a uncharacteristic myopic view of his situation given his wide range of access to incredible varied resources. Endless experience, 198 mutants, mystics, Shiartech, Nimrod notes, superhero allies, etc. He doesnt seem to have any problems with mucking with the future, lately, or using future knowledge. Blindfold was the first example to jump to mind that should have been noted to the readers (though she still might to be fair). There must be intel from that Madrox mission to the two futures? There's Butterfly who might know stuff. There could be Cable/Apocalypse notes that someone has? Bury the hatchet with Beast and use his Avengers' connections? Are Xavier's Illuminatti connections still a secret after Rulk exposed 'em so Chuck didnt have to let Scott wallow? Why not ask a mystic to scry the possible defenses against destiny? (Please make it Sefton so we can finally see whats become of her since her alleged attendance of Kurt's funeral.) And hey, are the
Destiny
's Diaries still any good for research for future insight?
Heck, order another timetravel mission [displeasingly so easy for him] to the future & order full downloads of historical tapes for a defense strategy [headache inducing] tips - every little bit would help a struggling country, state, suburb or whatever Utopia officially is now.
It just seemed like a poor excuse to throw in a random (new) motivating flashback (temporally unclear at that) to clue readers in to how he will deal with an unbeatable sitch (vs the whattheheckIScoming threat) when he cried about not having any forehand knowledge.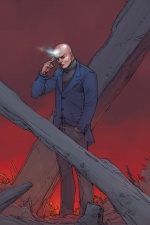 ---
Still missing my brother...