Wow, indeed!
If not for the mediocre art, this was an excellent installment. It IS a shame after all the previous mediocrity and pending cancellation that we finally get what could've been a definitive turning point with this young mutants title. This book had many-more-than-one lump-in-your-throat 'hero moments' that were part of the turning tide with the kids fight against M-Plate. There was deliberate backstory/chronology/footnote attention paid.
==Quentin feelings and dialogue.
==Jubes biting her tongue, as it were, to invite him back.
==Kid Krakoa is in the right place (direction correction) for his existence.
==The terror of M-Plate reaches an effective climax...
...then the freekin' flamin' heroes fight back! YEAH.
==It was most exciting as a guantlet fight. And the kids' dialoguing with team-busting Monet was spot on too. Even though each 'lost' they wore her down and stepped up with entertaining attacks.
==Non-stop, vicarious fighting back. Wow! It was:
Chamber! Go!
Husk! Go girl!
Ben take one for the team! Block that crushing debris!
Eye-Boy use your powers in a cool new x-ray way!
Nathaniel! Go!
Bling! Go!
Nature Girl use your powers in a cool new rat-cruiting way!
Jubilee! Calvary time! Go!
Quire! He's back! Go!
==And then top it off with (promise of) a looong overdue direction correction for Jubes with that surprise ending.
Four Quentin Quire questions...
1 Quentin found out he was adopted THAT way? We don't know his parents? Morrison scripted? This ish did a good job making him more sympathetic but that was just kay canon to read.
2 Remind me why he offered to 'raise' Sophie and why she said no?
3 So, his Thor appearance was immediately before this M-Plate arc. Does that mean the Jean Grey appearance is after this?
4 Does it make sense QQ can do that with his Phoenix shard?
Also, are we assuming that Monet was mentally flustered by Nathaniel's memory of his family dsyfunction being the cause of his problems and that it mirrored her recent bad decisions - so that was (unclear) reason for her momentarily faultering?
Generation X 086 (2018)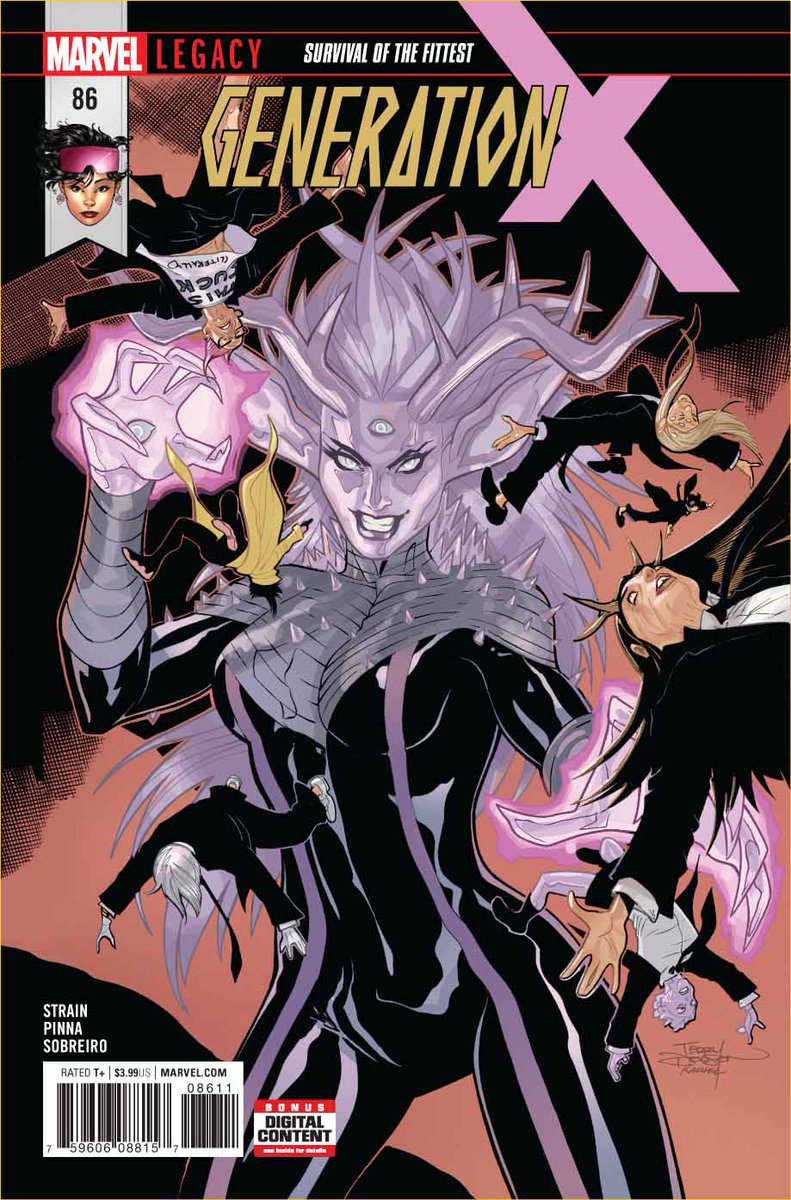 ---
Support Cancer Research and Alzheimer Research.