Quote:

True. I probably have less interest because I don't know the characters. I could actually wish they weren't in the book, although I don't know who I'd replace them with. I don't want any other 1963 X-Men, nor do I want any other 1975 X-Men, because I don't want the book to feel dated, so - I guess Gentle and Trinary are as good as anybody, since they're both 21st century characters. It's cool that Gentle is Wakandan.
Yeah. It's fine that 1 rep is from 1963 and 1 from 1975. It all depends how the writer presents the other 5. Having duplicate wolverine powersets COULD be a problem creatively and it will be a challenge to match the entertaining dynamic and shared universe pace of their successful ANW book. Namor will be a big fish to land.
Gentle IS cool and could cash in on some Black Panther hype if done better than Queen Ororo ever got. And who the heck is Trinary??
Quote:

She's back to life because the Phoenix resurrected her, because that's what the Phoenix does, apparently. The entire story arc could be summarized as follows:
PHOENIX: Be alive again, Jean. Be happy. I love you.
JEAN: Ugh. Not again. But I have no choice in the matter so OK.
Not one iota of a rationale as to what Jean will do with herself.
To me that's meaningless.

Yeah, it was a terrible mini. That's why it was a lazy 2 MONTH GAP timestamp to write in. It was a missed opp -no, a necessity- to fix some of the fallout from that 'meaningless' event that brought Jean back, imo.
Quote:

Laura has a secret identity because she has mundane loved ones she wants to protect. One would think the other X-Men have mundane loved ones too, but you'd never know it, as they never interact with any of them.
Quote:


It was only easy for Jean, Omega level super-mutant.
But she can't generate ideas from each of the brainiac trust, can she? Or stimulate their thinking potential, can she? Hmm... wonder how long that mind-meld session went on for?
Quote:

The religious analogue doesn't jump out at you?
That's actually a tough question. Especially with another new conceived X-Telepathic specification involved. The actual feat she performed sorta didn't totally register, at least the way the story read (on my fisrt read thru). It didn't seem Messiah-Level. Could be wrong. Are you saying better than Omega Level? Showings, w/o description details, are probably a subjective thing. Seeing any impressive superpower in action could be a transcendant experience.
Quote:

Are you talking about the 1963 and 1975 teams? I'm sure we'll get to that. We've seen Kurt so far. Probably next up will be Warren, as I figure his money will prove useful - except I have no idea of the current state of Angel/Archangel. That convoluted story got way out of hand.
Quote:


Quote:Did you take Mutant Nation as a people and not a land?

Yes. They say as much in the comic.

Quote:Can the U.N. admit a race instead of a country?

Apparently, since they did it in this issue of the comic.
K. Thx.
Quote:


Quote:
Latervia may or may not still be a member but certainly fugitive Iron-Dr.Doom-Man doesn't/shouldn't have one ATM.

Oh. Right. Another story that's gotten way out of hand.

Yup.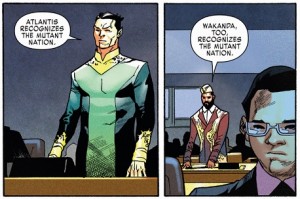 ---
Support Cancer Research and Alzheimer Research.