Quote:

Well, this cover was released in February. We did not know at the time. Putting a name would have spoiled it. Sure, they could have blocked the name, but nah. Even after last issue they could have thrown a curve and killed someone else.
Certainly a valid reason. Devil's Advocate could say after 37 years of being a decently established (background) character it might have been nice props to get some kind of cover representation on her final issue. Heck, she doesn't really have a claim to fame issue other than her intro in MGN and her giving birth in X-Factor 224. It the XMB weighs in, it would be interesting to see their list of favorite Rahne issues.
Was never her biggest fan, either. She was always sweet. But a definitive death will nicely free up her codename for proper no-copying yoinking. Jack Russell never did get a arch-nemisis that he deserves - so maybe introduce (or use an established character from his past), some grizzled old hunter who has it out for lycanthropes and takes the name: Wolfsbane!
Quote:

Well, the pictures they used are from recent issues, but aren't up-to-date. Rahne's picture is not of a corpse either.
Still, the inconsistency is a turn off to note. Either keep file stock mug shots or go all in, update one then update all. Either way is fine but not 6 of one and half dozen of the other, imo.
Quote:

Very provocative to have a base in Eastern Europe.
Hmm... are writer, Editor, Bullpen, and MU logic on the same page?
Quote:




Quote:

Quote:
"I'LL BE QUIET NOW." Ha! DB actually has a funny line.



I didn't laugh.

After his insensitive and repulsive comment (annoyingly in-character) to Logan, DB totally deserved that armed response/sight gag. The crappy guy deserves that more often.
Quote:

Cyclops
Karma
Harry Morrel
Chamber
Kwannon (I guess she's wearing the same purple outfit)
Stevie Hunter
Madrox-Lock
Vange Whedon
Magik
? short brown hair
Longshot
Banshee
Kavita Rao
Hope
Prodigy
Madrox
Layla Madrox
Juggernaut
Moonstar
Doop - is always out of place imo

THANKS. Layla and Whedon - nice catch. Vange Whedon as in MLF? Didn't they turn over those guys? And if not, another sheesh example of letting their prisoner out. Has she and Rahne ever even shared a panel? IFFF this was after WotR then maybe somebody should've invited Asgardian Hrimhari? Where's Dust, too?
Grace.
Quote:

MacDonaill Cemetery is somewhere in the US, I guess. Why bother giving the name of the cemetery and not a location?
Word.
Quote:

Okay, so Scott srtangely thinks Berto and Sam are dead.
Yeah, caught that. It was also -appropriate- but uneven to include Tier in a list of names that seemed to point at the victims of the AoX crisis. But then he does list Xavier at the end - unless Logan told him he lives again and it's assumed he got taken out by Nate too...
Quote:

Scott and Jean had one. Very past tense. Jean got rid of that a long time ago.
WHOA. News to me. When and how??!
Quote:

Don't recall anyone else with links. And note: Dani and Rahne were only linked when Rahne wolfed out. This is partially because of Dani's empathy with animals.
Wonder when a writer will properly present Dani's valkyrior empathy with the dying. Does she always have to be in the vicinity? Did Brunhilde?
Quote:


Brian Braddock lost an eye in the great Captain Britain Corps massacre circa all of the Incursions
Alexei Vazhin (the Russian Nick Fury guy)
Erg the Morlock
Hmm... Scott's brother, Vulcan (if Havok could get his scar back, they could be a club within a club)
Javitz the Acolyte... pretty sure he's still dead
Jason of Pantheon (I really miss the Pantheon)
Odin
Cable
Raza of Starjammers
Dr Strange once, but not now
ODIN! *facepalms*
Quote:

You don't comment on this, but I certainly will. I am no fan of Wolfsbane. I generally do not like characters with her usually submissive and self-loathing personality. I find them horribly depressing in every bad way imaginable. BUT!!!!

There is no way in heck she should have been killed by these guys. From what she's done in her life, she could have slaughtered a dozen normal human attackers. @%$#@$!@#! heck, she could have simply fled the scene faster than any of them could have done anything. But she just curled up into a ball and took the abuse?! What the?! This is utterly stupid.

No, this was not a good story, at all.
Well, there's probably ways readers can (and evidentally must) No-Prize rationalize this miserablebut very poignant death. eg. They got in an early debilitating shot, she misjudged how hateful they were, some unshown story element factored in, some personality flux detail that prompted her quitting, something else...
---
---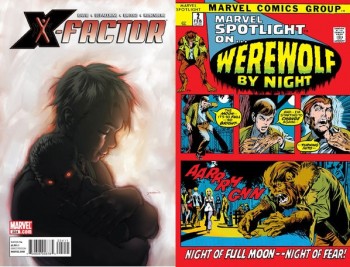 I miss Dad & Dan.