Previous Post
Cable 011
...or should the exasperation be: Oh,
older clone
brother! Look who they Krakcloned back: Old Man Cable! Brought back while a Cable already exists! Who needs those plot point stupid Resurrection Protocols anyways. And not only that, this OMC is an early version of an older version of 'the real' alt-one we saw a few issues ago in another timeline who is undoubtely bound for this 616 to mess temporal space more, too. Not to mention The Five are bringing back the son of
clone
d Madelyne Pryor - so arguably not a true mutant. Dumb. Dumb. Dumb.
Cuckoos permanently and vehemently break up with Nate... for 10 pages. Cuckoo. Cuckoo. Cuckoo.
Looks like Stryfe being divergently recycled (AGAIN) just to copycat the baby threatening
Inferno Event
?
Not only all that, but Marvel deigns to show the ROM Mythos an iota of the respect that was taken by bringing back the "Last of the Spaceknights"... and they make him a limping cripple with a cane. Lame. Lame. Lame.
https://www.comixology.com/Cable-2020-11/digital-comic/922643
---
Support Cancer Research and Alzheimer Research and COVID Research.
Next ish of CABLE news: Cancelled. ...Makes sense!
https://comic-watch.com/news/news-watch-first-look-at-cable-12-and-s-w-o-r-d-7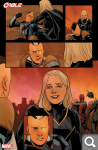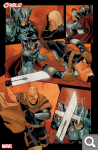 Do the preview images of Doom and Storm (now
Martian
Arrakan Goddess-Queen Regent *koff*) amicably supping make good sense/teaser?
https://comicbook.com/comics/news/marvel-sword-7-preview-last-annihilation/
---
Support Cancer Research and Alzheimer Research and COVID Research.